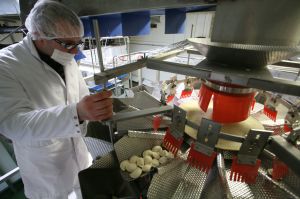 THE introduction of an Ishida multi-head weighing system has enabled Monolith Fleisch und Teigwaren to significantly increase output whilst embarking on major product enhancement and product development programmes.
Based in Schwabach, Germany, Monolith Fleisch und Teigwaren is a leading wholesaler in Eastern European speciality foods including Russian style filled dumplings known as Pelmeni.
Whilst originally the dumplings were fed into a bag-maker via a linear weigher, poor accuracy and low speed was bottlenecking the entire packaging process. Instead of adding more weighers, which would overwhelm the limited space, Ishida installed a modern multi-head weigher as a replacement for the linear model, leaving the current production line in place. The new multi-head weigher has doubled production output from 8 to 16 tonnes of Pelmeni per day.
With precise accuracy during high-speed operation, the 14 head weigher maintains the quality of the fragile frozen Pelmeni by cushioning the pasta parcels on their path through to the bag-maker.
Arriving at the top of the weigher in a flighted elevator the pasta parcels are then channelled via a funnel and plastic collar onto a coated dispersion table. Upon exiting the weigh hoppers, the 13g dumplings are separated by a shock-absorbent pole suspended in the discharge chute that prevents the parcels from colliding.
The Ishida weigher's superior accuracy has also increased yield, as Quality Manager Mustafa Kray explains: "While previously 480g might end up in a 450g pack, today overfill stays reliably below 1%." As a result the Ishida multi-head weigher is already paying back the investment.
Designed to maximise production by allowing thorough cleaning at a minimised time, contact parts can be removed and refitted once cleaned without using any tools. With interchangeable 3-litre hoppers and radial feeders, individual hoppers can be removed and replaced during operation without affecting accuracy.
Monolith Fleisch une Teigwaren's product range and innovation has also increased thanks to the new Ishida weigher. Whilst previously product innovation was secondary to satisfying demand for core products, now the firm are capable of producing 20 different dumpling varieties, including quark and strawberry filled dumplings.
The new line is now packing at target weights of 450g, 500g, 1kg and 1.5kg, twice as many as before, and Mustafa Kray has commented: "Before the modernisation, the introduction of new products inevitably took place at the expense of the standard range." "Thanks to the Ishida machine, we have become much more flexible."