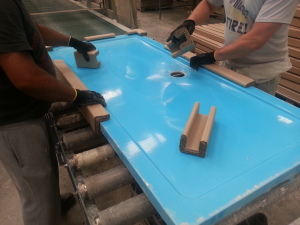 The UK Corrugated Industry is a pioneering force in sustainable, lightweight and recyclable packaging. Bringing innovative new designs and expertise to the sector, corrugated packaging is increasingly helping companies to streamline their transport requirements, according to the Confederation of Paper Industries (CPI).
Often helping companies to streamline their transport requirements, corrugated packaging has recently been adopted by MX Group, the UK's largest manufacturer of shower trays. The company has replaced conventional expanded polystyrene (EPS) for corrugated corners and linear channels to ship thousands of units per week to most of the country's major DIY retailers and specialist bathroom and plumbing centres.
MX Group Supply Chain Manager, Andy Pratt said: "Because corrugated is more densely loaded onto the pallet – compared with EPS which is mostly air – we're getting fewer deliveries onto the site. Our requirement can be two and a half articulated lorry-loads per week at really busy periods."
The space-efficient packaging of modern corrugated designs is leading to a more efficient use of pallets and therefore fewer vehicles on the road.
MX Group's environmental concerns over EPS packaging have also been allayed with their move to corrugated materials. Corrugated packaging is the most recycled packaging material in the UK – with over 80% recovered, equivalent to an area three times the size of Greater London.
CPI's Director of Packaging Affairs, Andy Barnetson said: "All packaging materials have advantages and disadvantages but companies are recognising that corrugated packaging is commonly made from recycled material and has the highest recycling rate of any packaging material.
"In this case, the compact nature of corrugated has also brought other advantages, not least being that the customer has reduced the number of lorry deliveries by almost half.
"While it has long been known as a provider of conventional transit packaging solutions, the Corrugated Industry is constantly looking for new opportunities. We are meeting future challenges head on and moving into new markets."