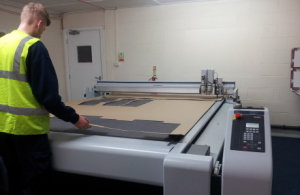 CORRUGATED box manufacturer Sheard Packaging has installed a Zünd G3 L-2500 digital cutting system to accelerate its sample-making processes.
Based in Halifax, West Yorkshire, Sheard Packaging is the largest single-site sheet plant in the UK. The company upgraded its existing sample maker to a modular Zünd G3 L-2500 cutting system, which can also be used for short production runs wherever necessary.
The Zünd G3 L-2500 digital cutter is designed for heavy-duty 24/7 operation on materials up to 50mm thick with minimum operator involvement. With a modular construction enabling a bespoke combination of tools, the G3 is designed to maximise the productivity of each individual user.
"Sheard Packaging are an extremely agile manufacturing plant and our operational strategy is built around this," said Lee Shackleton, Operations Director at Sheard Packaging. "We needed a replacement table for our incumbent one and after research across the market we bought a Zünd. We bought it for its speed, versatility, build quality and service support.
"It has certainly sped up the process of sample making and this has allowed us to increase our daily capacity for samples."
Lee Shackleton added that Zünd was recommended to Sheard Packaging by both its suppliers and other corrugated box manufacturers. "We started working with Zünd when we placed the order for the table," he said. "The process dealing with sales, installation, commissioning and training was seamless, with minimal interruption to our design facility."
Peter Giddings, Zünd UK Sales Manager, added, "We're happy to have helped the country's largest single-site sheet plant increase its capacity even further with the installation of the G3 L-2500 digital cutter.
"It's a very versatile, flexible machine that has already seen Sheard Packaging expand its production speeds so we're looking forward to seeing their new innovations."