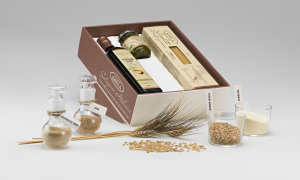 THE special "Selezione Italiana" gift box by Academia Barilla (the Barilla brand that promotes Italian cuisine around the world), made using Favini's CartaCrusca and designed with the help of DraegerGPP, has been nominated as one of the six finalists in the Luxe Pack in Green Award for 2014.
The Luxe Pack in Green Award is given each year to the company that presents the most innovative solution in environmental packaging. An expert panel of judges selects the six finalists based on the materials used, the processes developed, the efficiency of the technology, and other parameters of sustainability.
After an honorable mention in 2010 with Shiro Alga Carta, made using the damaging algal blooms of the Venice lagoon, and winning the prestigious award in 2012 with Crush, this year the panel of judges has nominated "Selezione Italiana", the packaging created by Favini in collaboration with Barilla, as one of the best products among all those running for the prize.
Academia Barilla came up with "Selezione Italiana" in order to promote Italian culinary tradition through a selection of products that epitomize Italian excellence, including extra-virgin olive oil, pesto made using an ancient Liguria recipe and a pack of bronze-extruded Barilla pasta.
The gift box is made of CartaCrusca, the paper that is made from bran that is no longer suitable for human consumption. CartaCrusca was borne out of a collaboration between the research and development teams of Barilla and Favini working side by side to select the by-product that was compatible with the paper fibre and then to purify and mill it, to replace up to 20% of virgin tree pulp with bran. The result is a natural-looking paper, the main ingredient of which is plainly visible.