Aetna describes how one of its clients, Sunderland-based CBL, has managed to increase production on its soft drinks bottling lines over the past couple of years.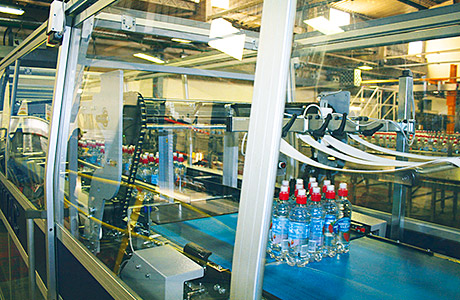 SINCE March 2011 when Martin Thornton acquired the assets of the old Villa soft drinks business in Sunderland and renamed the company Contract Bottling Ltd, the business, with a completely new team of directors and senior managers, could be said to have never looked back. Most companies in the drinks industry have had a couple of good years, but a 178% increase in production is something else again.
In 2012, CBL acquired one line from Silver Spring in Folkestone, Kent along with the rights to bottle Perfectly Clear spring water. The original line did not have a blow-moulder or high-speed shrinkwrapper and as sales grew this became a major issue, so at the start of this year operations director Mark Bell decided to invest in the two ends of the line together with a new 42,000 sq ft warehouse.
DECIDING ON A MACHINE
Bell explains: "Line 3, which came up from Folkestone, was centred around a Simonazzi filler which has proved to be excellent, running at 24,000 bph on two bottle sizes, 400ml and 500ml. We produce our own Perfectly Clear, Mountain Mist, Northumbrian Spring and other flavoured spring waters on Line 3. I needed a shrinkwrapper that could do 45 ppm in either film-only, tray-and-film or pad-and-film. We had knowledge of Aetna UK as we had an existing Dimac shrink wrapping system which had proved extremely reliable, as well as a number of Robopac pallet stretch wrappers in the plant together with a Prasmatic shrinkwrapper on our glass line. Over the past few years we have been very impressed with the Aetna UK service and support, so to choose their Dimac Green St@r T series machine was an easy decision to make and since it has been installed it has essentially been plug and play, we are extremely happy with the new machine."
OTHER FACTORS IN THE DECISION
Dave Walkinshaw, sales manager at Aetna UK commented, "We have had a long association with the Sunderland facility. When Mark contacted us to discuss the end of line investment, the Green St@r T was the obvious choice. The St@r range is designed for easy operator use. The touch screen panel can be used to control all machine parameters and production statistics, manage and modify size changes and integrally control tunnel temperatures. The St@r range can also be fitted with a modem function to allow for problem diagnosis, program settings and up grades. Delivery took just 11 weeks from receipt of order. Mark had highlighted to us that CBL volumes were going to increase dramatically this year and as we batch build our machines this dramatically reduces delivery times which significantly helped with the buying process. It was also an easy matter to train the operatives so they could get the best out of the St@r once installed. For us it has been a great installation and we are so pleased to see a client benefit from his investment with such spectacular volume increases."
Mark continued: "This huge increase in production, resulting from the sales team's mammoth effort, has led to many new listings and we now need to increase our warehousing facility. We found a 42,000 sq ft facility close to our production site, which we purchased, but with the increase in production we are already looking at other warehousing options.
FUTURE PLANS
We have plans to upgrade our other PET line and also our glass line, and we are aware that we will need to increase our syrup room capabilities in the near future. The new management team led by Martin Thornton have been investing in training and transforming the look and feel of the production facilities. It has been a great boost here for all the staff and their response when we have asked for extra shifts has been fantastic, as they understand we are investing in the company and the team. It is wonderful to be able to reward success."