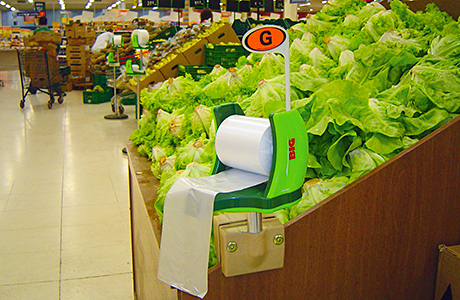 SUPERMARKET fresh Produce bags may never be the same again, suggests packaging specialist KM Packaging Services, which is introducing Unisold Produce Bagging Systems to the UK market.
The Unisold system has been developed to meet retailer requirements for a high-volume, stronger, environmentally-friendly fresh produce bagging system, alongside consumer calls for a more practical, eco-compatible produce bagging and storage solution that will not only facilitate the efficient spill-free selection of fruit and veg, but crucially help to extend its lifespan in storage.
The Unisold bagging system is manufactured from a renewable, biodegradable source which is not only very strong – resisting splits – but can also be printed to promote a current brand or promotion. This is in stark contrast to many of the current bagging systems available in supermarkets, which can offer a thin, anonymous bag that is too small, often splits and is rarely dispensed singly, leaving nearby produce displays littered with unused plastic.
Available most usually in 6.5µ thickness – but also 7 or 8 – there are also three different Unisold bag sizes and several types and colours of dispensing units available. The dispenser design encourages the issue of just one reinforced bag at a time, reducing waste and improving hygiene as the customer only touches the bags they need to use. Moreover, the bag film can contain additives to sustain the freshness of the contents, and reduce the ripening process of fruits and vegetables through control of ethylene gas absorption, water vapour and oxygen permeation. The lifespan of fruit and vegetables kept in the bags after purchase can be extended by several days.