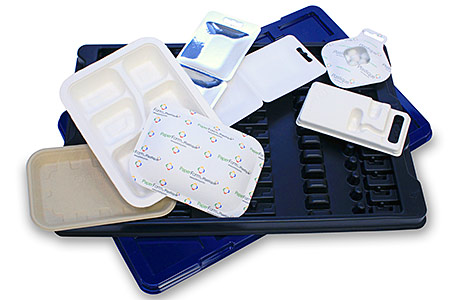 Plastique, one of Europe's leading thermoforming companies has recently received BRC / IoP Packaging Issue 4 Certification for Food Packaging & other packaging materials for its 3,000m2 production facility in Poznan, Western Poland. This gives the plant a Category 'A' rating under current standards. Other exciting plans for the plant which services customers in Central & Eastern Europe include a significant expansion of the manufacturing and warehousing facilities over the next few years.
Meanwhile, Plastique's UK production facility in Nottingham, which has held BRC/IoP Certification for the last 10 years, recently underwent a major refit with the provision of a new resin floor, new factory / warehousing layout and finished goods conveyor system to further enhance efficiencies. Additionally the Tunbridge Wells design and development centre has been certified for ISO9001 – 2008 Quality management system for the design and manufacture of tooling for thermoformed components.
The company has been pioneering innovation in Thermoforming for the last 35 years, creating packaging with an environmental conscience for a wide range of industries and sectors including cosmetics and toiletries, personal care, pharmaceutical, food, electronics, component handling and retail.
In addition to its core plastics business, from early 2014, Plastique commenced the manufacture of custom designed moulded pulp packaging. Trading under the name Fibrepak®, a sub brand of Plastique, the process known as 'thermoformed fibre' or 'pulp thermoforming' uses 'Cure-In-The-Mould' technology to produce the highest quality, most well defined, smooth surfaced thin walled pulp products available.
Another innovative packaging concept from Plastique is its thermoformed paper packaging concept PaperForm®; composed with FSC certified stretchable paper (FibreForm® from BillerudKorsnäs) and a thermoplastic such as rPET or PE; these material combinations can be formed to create soft sculptural shallow packs that will bring an innovative, naturally tactile quality to a product or brand. A PaperForm® tray can be pre-printed, film lidded, heat sealed to itself as a clampack or to conventional rigid thermoplastic packaging.
These recent developments represent another phase in the company's strategy to become the most successful thermoforming business in Europe by allowing existing and potential clients the opportunity to choose from a wider range of thermoformable materials and expanding the market sectors serviced in Central & Eastern Europe.