Popular juice brand now available in the combidome carton bottle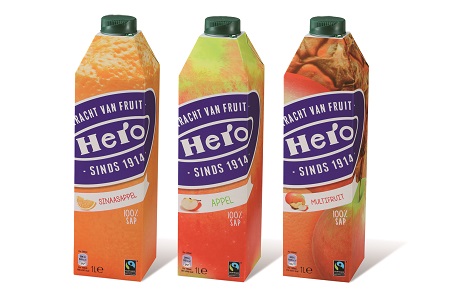 August 2014. Nothing suits a real 'hero' better than superhero packaging. So well-established Dutch company Hero (part of the Swiss based Hero Group) is now packaging its newly introduced 'Hero' Fairtrade juices in combidome from SIG Combibloc. The innovative carton bottle, which pairs the best features of a bottle with the best features of a carton pack, has already won multiple high-profile international packaging and design awards.
"When exacting quality standards, technical expertise and attention to detail come together, something very special is created. Consumers experience this every single day when they drink our 'Hero' juices. The standards we set for ourselves are the same ones we demand from the packaging in which our products are put on the market", says Ralf Wijnveldt, Channel Marketeer at Dutch food manufacturer 'Hero'. For that reason the company, founded in 1914 with offices in Breda, has now opted for the combidome carton bottle from SIG Combibloc. The juices with 100 per cent fruit and Fairtrade ingredients are now available in the Netherlands in combidome 1,000 ml, in Orange, Apple and Multifruit flavours.
Ralf Wijnveldt: "The prize-winning combidome carton bottle gives our 'Hero' products not just optimal protection, but a fitting, interesting face as well. We're committed to keeping up traditions, but we also aim to move with the times and set the benchmark when it comes to outstanding quality – so we're on the right track with combidome".
SIG Combibloc is one of the world's leading system suppliers of carton packaging and filling machines for beverages and food. In 2013 the company achieved a turnover of 1,680 million Euro with around 5,100 employees in 40 countries. SIG Combibloc is part of the New Zealand based Rank Group.