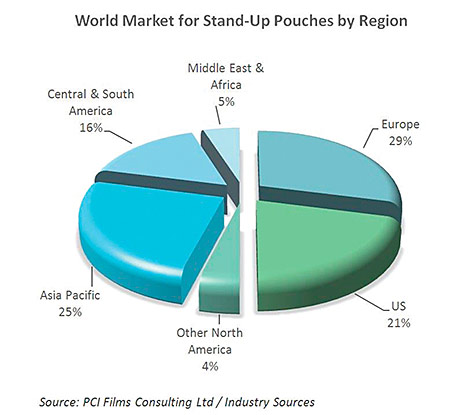 OVER the last few years the stand-up pouch has emerged as one of the most versatile and rapidly growing flexible packaging formats, adopted worldwide for an increasingly wide variety of end-use applications.
Market analyst PCI Films Consulting estimates current global demand at around 80 billion units, over 50% of which is now in Europe and North America where unit volumes are growing by around 5% and 8% per annum respectively.
Recent studies it has published on these markets show demand being driven by various factors. These include machinery improvements, in terms of speed and the ability to incorporate resealable features such as zippers and sliders.
For retort applications, pouches offer reduced heating times and better taste compared with cans.
Improvements in barrier film substrates such as coatings with increased heat tolerance and strength are also playing a role. Other factors include environmental benefits and reduced logistical and storage costs compared with rigid formats. Then there is consumer convenience and the rise of new eating occasions such as eating and drinking on-the-go.
More generally, stand-up pouches offer packers an opportunity to stimulate packaged food sales, develop creative ways to compete better at the consumer and retailer, and the ability to offer profitable and innovative value-added line extensions to brand owners. The stand-up pouch is set to become a serious rival alternative to rigid formats.