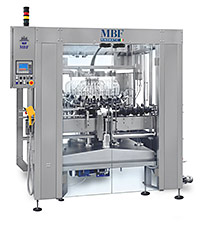 RINSING, filling and capping machines from Peebles-based Evolution Bottling and Packaging Solutions include the Rinsmatic rinser-blower-sterilizers, available with fixed or penetrating nozzles, for glass or PET bottles.
Among the strengths of this machine range are the systems for rinsing the bottles with hydro-alcoholic solutions or with the filling product. The range also includes a system for the recovery and recirculation of the rinsing product, blowing with sterile air and using a drop-suction system at the end of the process to avoid wetting the outside of the bottle. On request, the machine can also be configured for the rinsing of the bottles through solution with ozone.
The Rinsmatic machine can be equipped with MBF-patented universal grippers, which work with bottles of different neck diameters and shapes. The pneumatic drive measures the gripping force, extending the life of the gripper and increasing the range of handled bottles.
It is said to be ideal also for heavy bottles. The adjustable arm can grab bottle necks with different shape without requiring any format change. See www.evolutionbps.co.uk/ibp for more details.