European milk sells well in Asia and Africa – quality packaging for quality products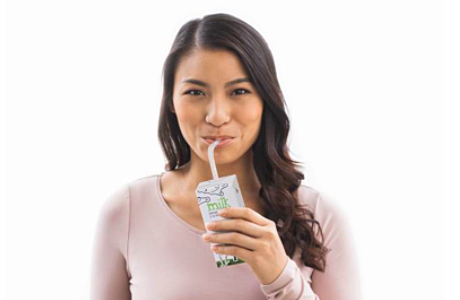 Milk and dairy products in particular are becoming more and more popular in heavily-populated Asia. And right now, China is at the head of the queue.
To satisfy Asia's growing thirst for milk, exports from Europe are in demand, because in Europe milk is available in abundant quantities, and European milk is seen as representing excellent quality and product safety. For export sales to Asia, however, it is not just the milk that must be top quality – the packaging also needs to satisfy exacting quality standards. In this respect, the aseptic carton pack hits the mark with an overall package brimming with benefits.
"For our European dairy customers, the number of UHT milk products in our carton packs that are headed for the Asian market has increased sixfold since 2011", says Matthias Krusche, Global Market Segment Manager at SIG Combibloc, one of the world's leading systems manufacturers of carton packs and filling machines for food and beverages. In China for example, people are prepared to pay handsomely for dairy products from Europe. So in particular the large dairy groups, with their increasingly global focus, are seeing attractive potential for growth in the Asian market and are manoeuvring themselves into position, with milk exports to Asia and also to growth regions such as Africa and the Middle East, to be as well-prepared as possible for the massive changes in the global dairy market.
This is not affected only by the need for dairy products in such growth regions. In fact, it is anticipated that the abolition of the European milk quota system in 2015 will strongly affect the market conditions. Due to an EU decision, from 2015 farmers in Europe will be free to produce milk without any limits. But in Europe, the demand for milk is covered – additional quantities will not necessarily be needed, and do not automatically promise extra profits. In Asia, the picture is quite different. With a population that is continuing to grow, rising incomes and changing dietary habits, which increasingly are taking on Western traits, the popularity of healthy, high-quality milk products is increasing – especially products that can be shown to come from Europe. Similar consumption and market trends are being observed in some parts of Africa.
Matthias Krusche: "For Asian consumers, product safety plays a significant role in the selection of food. Separately from the product itself, food packaging too, with its protective characteristics, is increasingly moving into the public focus".
DMK: growing export business
Germany is one of the world's biggest exporters of dairy products. According to recent surveys, currently almost every other litre of milk products in Germany is exported. Deutsches Milchkontor (DMK) is one of the companies generating a share of its annual turnover – now around 38 per cent – through export business to more than 100 countries world-wide.
Michael Feller, Director Marketing/Sales at DMK: "A dynamic market calls for ideas, progress and commitment in every area. For that reason, we're investing a great deal in dairy research, in developing new products and production methods, in technology, quality and safety. This enables us to offer bespoke products for the German and for the international market. With a sales mix of supplying the domestic market and export business, we will secure our company's success for the long term. The increasing internationalisation is of vital importance for the company's future".
DMK exports a variety of different products in its portfolio to China – UHT dairy products mainly in 1-litre aseptic carton packs, on which the origin of the products is explicitly stated in the package design, with labels such as 'High Quality – Made in Germany'. By contrast, dairy companies in Asia offer dairy products almost exclusively in small-format packaging. It is noted, however, that dairy products from Europe are consumed primarily by families with children – and in substantial quantities. Milk that verifiably comes from the EU promises premium quality and a high calcium and protein content, which benefits in particular the development of growing children. Not least for this reason, family-size carton packs are ideally suited for the emerging Asian market.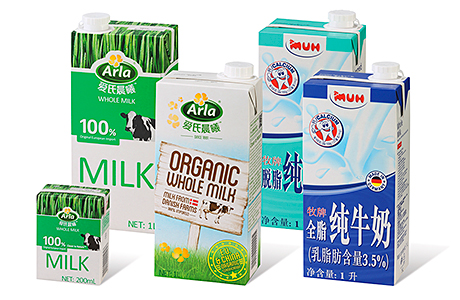 Arla Foods: perfectly positioned
But what is more – carton packs have all kinds of other advantages in export sales. Arla Foods is making use of these advantages. Arla Foods is another dairy company with an international outlook, and sees the export business as an integral part of its corporate strategy. The company's products are sold in more than 100 countries. Tim Orting Jorgensen, Executive Vice President, Consumer Germany and Netherlands (CGN): "When the EU's milk quota system is abolished in 2015, our dairy farmers will produce an estimated one billion kilogrammes more milk than they do today. This quantity can be sold in countries outside the EU. We've invested in particular in Russia, China, the Middle East and Africa, as in those places the economies are growing and there is a big market for dairy products. Our medium-term goal is to double the pro rata share of our export sales by 2017, from ten to 20 per cent of total turnover. The gentle UHT process, and filling the products in aseptic carton packs, ensures that our milk heads out to consumers in the best quality, and can be kept for long periods even without refrigeration. Carton packs protect our products and keep them safe. They're also unbreakable, sturdy and they stack well – these advantages save on logistics costs. For that reason, they're also perfect for export sales".
Hochwald: quality 'Made in Germany'
The carton pack's excellent display characteristics also help draw the attention of Asian consumers to the quality of the milk products. For instance, 'Made in Germany' is printed on the carton packs of UHT milk products which German dairy group Hochwald sends to Asia – beside an eye-catching German flag, and this is paying off in the Asian retail market. "Quality milk products from Germany are very highly valued in Asia", says Dr. Karl-Heinz Engel, Chairman of the Board of Hochwald Foods GmbH. Exports have been an important mainstay for the company for many years and are continuously being expanded. In Asia, in addition to the good sales of 1 litre packaging, Hochwald is experiencing an increased demand for milk products in smaller packaging units, for example 0.20 litre. In this packaging size, Hochwald exports long-life milk, milk-based drinks and cream. The company is increasing its activities in the region, for example with the expansion of the product portfolio and new sales and production branches.
Milk expert Matthias Krusche anticipates that in particular the large, global dairy groups will step up their presence with their own outlet stores in Asia's major cities, in order to bring the sought-after milk products from Europe straight to the end consumers. Krusche: "Sodiaal is a trailblazer in this respect. The company now has 'Candia' stores in various key cities, where people can go to buy the popular French Candia-brand products. We believe other players from Europe will move in with similar shops, and other sales channels such as online shops".
• SIG Combibloc is one of the world's leading system suppliers of carton packaging and filling machines for beverages and food. In 2013 the company achieved a turnover of 1,680 million Euro with around 5,100 employees in 40 countries. SIG Combibloc is part of the New Zealand based Rank Group.