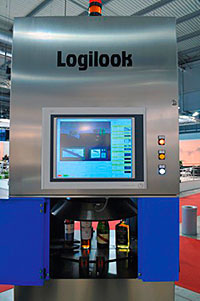 WHISKY producer William Grant & Sons has recently installed advanced camera inspection systems and a fill-level checking system supplied by Logics & Controls, with support from Evolution Bottling & Packaging Solutions.
The two Logilook camera inspection systems and the Logilevel fill-level checking system are being used to inspect various bottle shapes including flask and book shaped, in both glass and PET.
According to Evolution, the bottling sector has some unique needs that traditional standard cameras only partially solve. The technology employed by Logics & Controls is said to uniquely enhance the camera with a series of special optical units that revolutionise the camera inspection of empty bottles and full bottles. It means, for example, that even for long neck bottles the bottom of the bottle is completely visible for inspection and you can identify defects or foreign bodies down to 1mm x 1mm.
Logilook is also said to be the only system that can fully inspect label quality using a single camera, and not dependent on the bottle's orientation. It can directly acquire the complete bottle exterior in a single image. The technology eliminates the common problem of merging multiple images, instead capturing all the required detail in a single clear image. Logilook will locate and read bar codes, lot codes, label codes, and other graphical markings, printed in both inkjet and laser down to very small scales. Writing, images, and backgrounds of different colours or tonalities can also be verified precisely.
A specialist in control systems for the bottling sector, Logics & Control's products are said to be highly adaptable to the specific requirements of each user, with precision levels that, according to Evolution BPS, "consistently exceed customer's expectations". In addition, Logics & Controls can design and develop bespoke checks to address customers' specific needs. The Logics & Controls range is said to be very user friendly and easy to operate, but where support is needed Evolution BPS is on hand to deliver UK based technical back up.