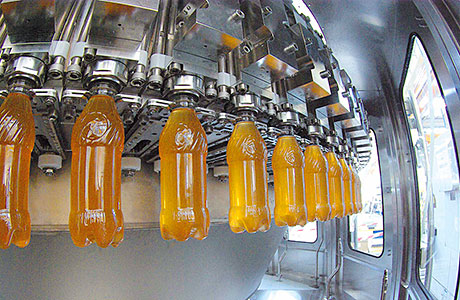 PRODUCTION of the other national drink gained pace recently with a 75% boost to PET production output, according to equipment supplier Sidel.
AG Barr recently decided to renew its PET bottling lines by installing Sidel Combis in its Cumbernauld plant.
The first is a high-speed Combi (48,000 bph) comprising an SBO 24 XS blower and a Eurotronica FM-C filler; the second combines an SBO 14 Universal and a Eurotronica FM-C. The order also included the respective conveyors, a cap steriliser and a Rollquattro F35 labeller. In both cases, the fillers have more compact chambers and therefore a smaller footprint.
Despite the fact that the new machines in the first line had to be added to an existing line, work was scheduled to continue production during installation. To do so with a minimum number of stoppages, assembly was divided into seven stages – alternating existing and new machines day and night until the new machines reached a speed that ensured the target output.
AG Barr also wanted to create savings by using less material, says Sidel, and asked Sidel to take into account a number of key criteria: blowing pressure (reduced from 32 to 28 bar for 2 litre bottles), filling temperature and the quantity of raw material used for preforms and caps.
Sidel also redesigned the three packaging formats (250ml, 0.5L and 2L) for products filled on the two lines. This involved making the preforms lighter (from 24 to 19.7 g for the intermediate format) and reducing the thread of the neck (from 21 to 17 mm).