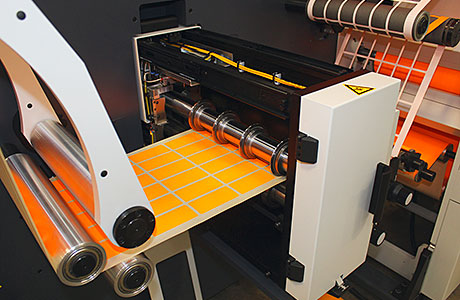 AB Graphic International has installed what it describes as probably its most sophisticated label converting specification ever, at the Milan premises of Italian label printer Roma.
The Digicon Series 2 specification includes delaminating/laminating in a semi-rotary web motion, multi-head semi-rotary flexo, flatbed foil stamping, in-register over-laminating, plus a web-splitting, multi-layer coupon device.
"Bearing in mind we have around 750 Digicon installations worldwide, this is probably the most sophisticated label converting specification we have built," says Managing Director, Mike Burton. "The design and configuration of the machine was agreed over some time with a large element of the final specification driven by the customer and the need to supply a highly complex range of labels to the market sectors Roma serves."
The laser label cutting line is the first Digilase system sold by AB Graphic International in the Italian market and includes a number of additional capabilities including semi-rotary flexo, over-laminating and a high degree of automation that includes the Omega FAST (fully automatic slitting technology) where the knives are positioned via servo motor and turret rewinder to allow non-stop production. The Digilase is JDF compatible, requires no tooling and files can simply be downloaded from a database ready to start production. After cutting the labels are matrix stripped and rewound in the conventional manner.
"The combination of digital printing and the Digicon and Digilase converting lines means we are able to reach new levels of performance and offer a greater range of finishes," says Marco Rossi, CEO of Roma. "We supply digitally printed labels, coupons, and booklet labels with a wide range of finishing options and the new equipment enables us to meet customer expectations. In addition, we are now able to produce variable data and die shapes that can be handled in one print run. Production costs have also been reduced through the laser cutting system that eliminates the need for expensive die tooling. Our customers are also benefitting from shorter on demand print runs, reduced stock inventory, no pre-press costs, greater flexibility in packaging design and of course, reduced lead times."
AB Graphic International operates on a world-wide basis from its UK headquarters in Bridlington, East Yorkshire, with global sales support through a network of distributors.