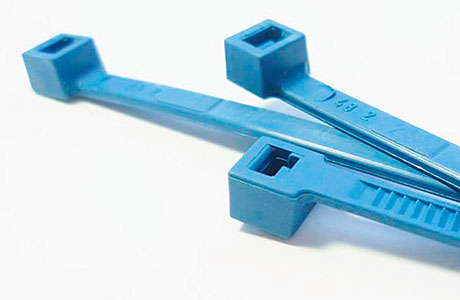 THE new MDT range of cable ties from marking system and cable management expert Partex can be readily located using standard metal detection systems, making them ideal for use in food, pharmaceutical, chemical and similar applications where dependable detection of product contamination is an essential requirement.
The blue-coloured ties are manufactured from high-quality nylon with a uniformly distributed metal content. This means that even small fragments of the ties can be reliably detected, irrespective of the part of the tie from which they originate.
Competitively priced, the new Partex MDT metal-detectable ties are available in four sizes: 140 x 3.5 mm, 200 x 4.5 mm, 280 x 4.5 mm and 380 x 4.5 mm. All sizes are equally suitable for application by hand or with a standard cable-tie gun.
The nylon material from which the ties are manufactured is self-extinguishing in line with the requirements of UL94 V2.