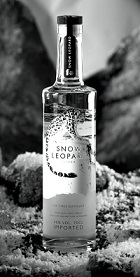 Allied Glass Containers has recently unveiled a truly stunning new bottle for the inspirational Snow Leopard vodka brand.
Working in collaboration with View Creative, the extra white flint Gicel Glass bottle uses striking screen printed graphics which feature the powerful image of a snow leopard. Philip Morris, Allied's Sales and Marketing Director, says:
"Allied Glass has a modern and innovative decoration facility with a wide range of modern processes perfectly adapted to bring high quality decoration to premium brands."
Snow Leopard is a luxury spelt vodka hand crafted in small batches, created to mirror the beauty and majesty of the Snow Leopard. The aim of the vodka is to save the Snow Leopard from extinction 15% of profits being donated to The Snow Leopard Trust.