Rachel Sawtell, marketing director with labelling and eco packaging provider Planglow, shares some of her company's insights into trends and developments that will help shape the food packaging sector in 2014 and beyond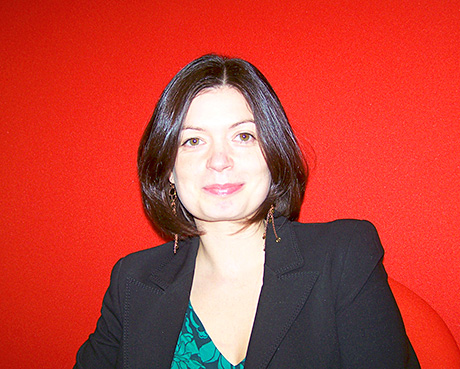 WE are anticipating the emergence and strengthening of three key interconnected trends during 2014. These are health and provenance, world flavours and casual & tiered dining.
Health and provenance
Consumers are becoming far more discerning when it comes to food – in terms of both flavour combinations and provenance. This is a direct result of the ever increasing diversity of our culture, as well as the issues associated with poor provenance – environmental, social and economic – as highlighted by the horsemeat scandal.
Locally-grown foods and traditional British fare will continue their recent renaissance – especially in terms of breakfast which is increasingly being eaten at work or on-route. Traditional British breakfasts remain extremely popular but the emphasis is now shifting to healthier options so things like porridge with fruit and nuts, or lean cooked breakfast wraps.
Stronger provenance, combined with the introduction of new labelling legislation at the end of the year, has brought about a need for greater transparency. This is becoming increasingly evident through the heightened levels of enquiries we are now receiving regarding our allergen labelling products and NutriLogic software. NutriLogic calculates nutritional information from the food provider's recipes so they can then add this to their labelling through our market leading labelling software LabelLogic. NutriLogic had proven popular with our contract catering customers for some years but since the introduction of the government-approved Guideline Daily Amounts (GDA's) scheme, which the software can accommodate, enquires have been coming in from growing numbers of smaller operators too.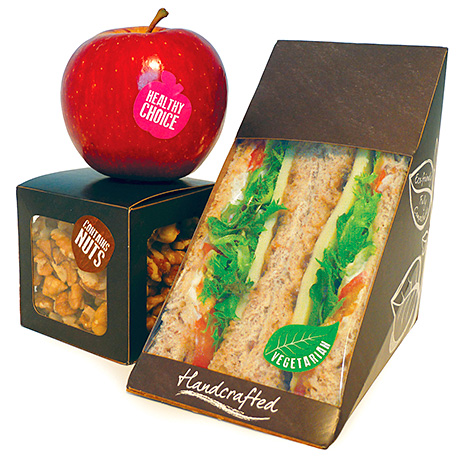 World flavours & street food
Our menu choices reflect the rich melting pot of cultures present in the UK and both fusion and world flavours are now standard. South East Asian and Middle Eastern – particularly Lebanese – style foods will continue to dominate the market. These look set to surpass Chinese and Indian cuisines as the new British favourites – certainly in the mid-term.
This is down to several factors including the availability and cost of ingredients, as well as greater awareness of what they actually are and how to enjoy them. South East Asian and Middle Eastern foods also support the rise of health and dietary options as mentioned previously. This is especially pertinent for grab and go operators as cuisine from these regions offers bread and gluten-free choices. Elements of both South East Asian and Middle Eastern foods also work well with more traditional British fare – the now widespread use of sweet chilli sauce or humus in sandwiches being a case in point.
Street foods fit nicely into the world flavours trend. Having had a presence for some time, the street food scene exploded in 2013 and looks set to be more a long term movement than passing fad. Gourmet hot dogs and burgers will feature heavily, as will South American flavours due to Brazil hosting both the World Cup and next Olympic Games.
Launched last summer to support the growing street food movement, our Natural Deli Pots have already proven immensely popular. Our customers are now using them for anything and everything from porridge or soups to curries, rich deli salads and dips. So much so, that we are launching a 16oz version in the New Year. Our grease proof Gastro Deli Paper also works well with a street food offering as it can be used for warm foods such as hot dogs or burgers, as cold sandwiches and bakery items.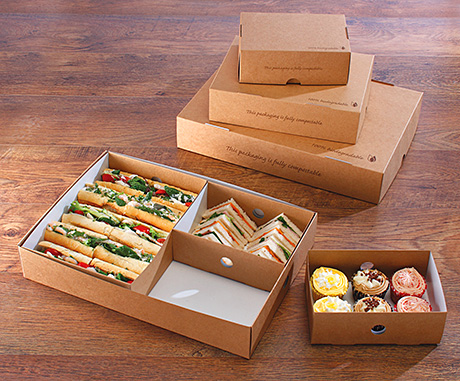 Casual and tiered dining
The street food movement is demonstrative of our increasingly relaxed attitude to eating out. Sharing platters, light bites and petite plats are now commonplace, while non-seated or eat-at-bar concepts can be found in any city centre. In fact casual dining is so popular, even three times 'World's Best Restaurant' winner Noma now offers a shared banquet seating option for its guests. This mellowing of the dining-out rules can be attributed to our ever busying lifestyles, with new markets growing around those who are constantly on the go, and at every time of day. However, it's also a direct result of the financial downturn whereby caterers have actively created less expensive – and therefore more casual – food options to help encourage trade.
As in previous years, costs look set to remain a dominant theme for 2014 because, whilst the economy is in recovery, budgets are still a core consideration for both consumers and caterers. For this reason we are currently investigating an even lower-cost alternative to our bloomer packs and sandwich wedges. However, it's no longer a case of solely providing budget options: 2014 is the year of the tiered offering. Having gathered momentum over the past twelve months, offering two, three or even four ranges represents choice – in terms of flavours and ingredients, as well as price points. This allows the customer to pick and choose depending on their mood or budget and supports the food provider in keeping their profit margins high while food and other waste is kept to a minimum. Planglow offers four off-the-shelf (plus bespoke) packaging and labelling options which can be used to differentiate a tiered offering: Natural – for a natural rustic finish; Ecoco – for an outwardly eco brand; deli-style Gastro; and premium finish Rosso.
Visit www.Planglow.com for more information on our branded packaging and labelling collections, labelling software and both Gastro Deli Paper and Natural Pots.