Kevin Heap of Sumitomo Demag looks at recent trends in the design and manufacture of caps and closures. He explains some of the features to notice when selecting equipment for processes like injection moulding.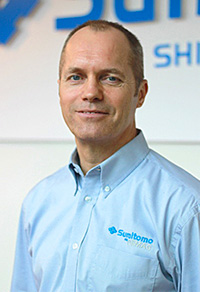 ACCORDING to a new study world demand for caps and closures is projected to rise by over 5% per year to $46 billion in 2016 so the outlook for performance injection moulding equipment suppliers looks optimistic.
In a nutshell – the injection moulding production of caps and closures entails thermoplastic and thermosetting polymer granules being fed into a heated barrel where they are melted and mixed under pressure by a rotating screw. This mixing continues until there is a homogeneous melt which is injected into a mould cavity where the shape is configurated to the cavity and is replicated exactly. The mould is then cooled and opened, ejecting the finished cap/closure. For caps and closures, multi-cavity moulds are used to allow the production of thousands of caps per minute.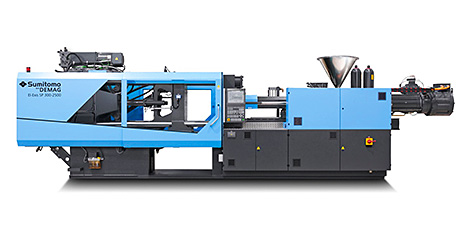 Beyond compression moulding
For some time, compression moulding has enjoyed a perceived 'top of the podium' position with respect to productivity, particularly for certain types of beverage caps and closures. Compression moulding is a forming process in which extruded plastic melt is cropped and loaded into a single cavity. The cap is formed into shape and ejected. In recent years, injection moulding solutions have surpassed the capabilities of compressions moulding, particularly for single piece water enclosures.
Manufacturers are often contracted to produce millions of caps and closures, so to be cost effective, investment in high performance plant equipment is advisable. Packaging formats are constantly changing to be more in keeping with modern lifestyles such as sports caps, gabletop cartons, aseptic cartons and stand up pouches, and it makes good economic sense to build a complete moulding system to take care of all anticipated applications, rather than trying to adapt existing equipment. Once a cap is moulded, zero post production operations are required due to the moving core operated by the mould and injection moulding machine. From a sustainability point of view, bio plastics are also being developed to meet manufacturer's green requirements. The intention is that any scrap material from any type of plastic will be amenable to being reground and reused, reducing waste.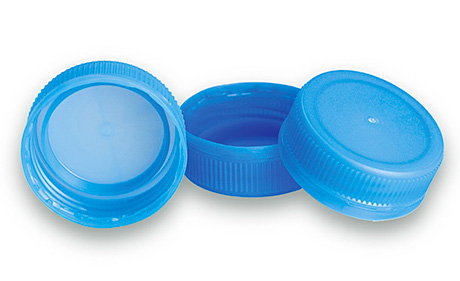 Case closed: Plastic is better
In terms of materials, plastic closures are gaining in market share at the expense of metal, paperboard, and glass packaging thanks to their cost advantages, shatter resistance, re-sealability, and graphics capabilities. Polypropylene will remain the leading caps and closure resin but there are expectations that the material may be replaced with HDPE which has economic and sustainability advantages.
The 'more for less' philosophy is highly evident in our industry. With material still being the largest cost element of a closure, thin walling and weight reduction has been the theme for the last few years. From a machinery manufacturer point of view, thinner wall sections bring changes in processing requirements: higher pressures and speeds, faster cooling times, and modifications to part-ejection and gating arrangements. These process changes have in turn prompted new considerations in mould, machinery, and part design. Sumitomo (SHI) Demag strives to produce lightweight caps and closures which surpass performance expectations and help lower costs, increase sustainability and increase speed capabilities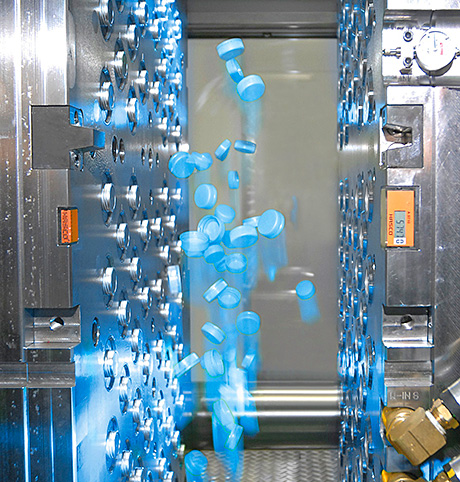 Leading edge screw caps for mineral water
Showcasing advances in mould design, materials and high performance injection moulding machinery, a leading mineral water cap manufacturer has installed the Sumitomo (SHI) Demag El-Exis SP fast cycling injection moulding machine to produce 72 HDPE screw caps in just 2.5 seconds. The El-Exis SP 300-2500 with a clamping force of 3,000 kN, is producing caps from HDPE and incorporates a 72-cavity hot runner mould for the 28mm 1.6g closure which includes a tamperproof strip.
The El-Exis SP is a hybrid system which uses a carefully crafted blend of drive technologies including a servo driven hydraulic clamp unit to achieve precise movements, a hydraulic accumulator delivering high injection rates, and an electric screw drive for parallel plasticising, all of which shave tenths of a second off the cycle time enabling manufacturers to profit from increased margins.
The system installed includes a high-performance barrier screw with a diameter of 70mm and a L:D (length to diameter) ratio of 25:1. Owing to its hybrid drive technology, the fact that all motions were optimised through the system's new 'activeAdjust' feature (which allows cycle optimisation through individually adjustable parameters without any external assistance via a slider system) and the new NC5 machine control. The system reaches cycles of just 2.5 seconds resulting in low unit costs, high efficiency and outstanding economic viability.
The El-Exis SP, with single or multi-component capability, has a 150-750 tonne clamp force range, up to 1120mm between tie bars and can accommodate up to 2.5kg shot weight.
Many manufacturers today are willing to invest in high-performance injection moulding equipment for the production of caps and closures. These days, it is an expectation that suppliers provide turnkey solutions, including robotic product handling, advice with tooling, training and testing as well as all the know-how and support that underpins efficient injection moulding manufacturing.