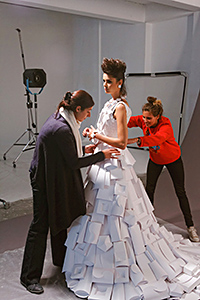 ONE company making a splash at the Fachpack trade show in Nuremberg in late September was Sappi Fine Paper Europe, which showcased its high-end packaging materials by using them to construct a gown.
Weighing in at 15 kg, the garment was fitted on a display mannequin and shown at Sappi's stand.
"The concept for this unique gown was created by the Belgian agency Equation with whom we have worked for more than a year," said Marie-Ange Gérard, Marketing Communications Specialist at Sappi. "We chose the Brussels workshop of artist Isabelle de Borchgrave, universally known for paper garment creations for museums and other entities. The outcome is an exquisite and totally revolutionary demonstration of the quality and flexibility of Sappi packaging materials."
Equations creative director, Marc Weymeers, added, "The special paper know-how of the Sappi group and its capacity to manufacture paper to meet the specific needs of its customers led us to the couture concept and the term "tailor made" emerged throughout our discussions. Since we are in the business of packaging, why not imagine a packaging paper gown? It would be made of paper and board, but its texture would consist of packages in various forms."
The dress, which was constructed using 280 packages and 320 tea bags, was worn by a live model and nearly 500 photos were taken by photographer Xavier Harcq. "His trademark is the attention he pays to shadows and the sublimation of objects," Weymeers explained. "The white gown against a black background gave him the opportunity to fully exercise his art and the resulting photos are outstanding. Some of these will be used by Sappi in an advertising campaign scheduled to run through Interpack in 2014."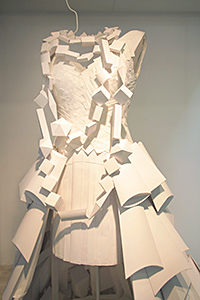 Using white paper delivered a stunning effect but required special attention to hygiene in the de Borchgrave shop. "Our tailors could not wear gloves because they needed the tactile connection with the paper as they were creating the various elements of the gown," de Borchgrave said. "This resulted in seamstresses washing their hands every 15 minutes to maintain the pristine purity of the creation."
Tea bags were created using 80 g/m2 paper and constitute the blouse of the gown. The crinoline was comprised of small boxes made from heavier 160 g/m2 paperboard, average size boxes using 270 g/m2 paperboard and larger containers using 330 g/m2 paperboard.
A fabric base was made for the gown and the packages were individually sewn on, arranged like scales. "You really have to see this creation to believe it," de Borchgrave added.