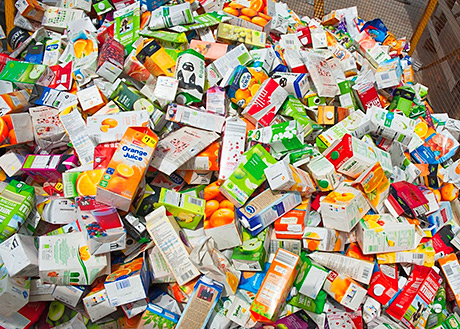 THE UK's only dedicated beverage carton recycling facility has been opened in Stainland (near Halifax), West Yorkshire.
Capable of recycling up to 40% (25,000 tonnes) of the cartons manufactured each year for the UK food and drink market, the new plant is expected to significantly boost recycling rates. That's 1.25 billion cartons which could be recycled – laid end-to-end these would wrap around the circumference of the earth six times.
The plant is a joint initiative between the Alliance for Beverage Cartons & the Environment (ACE) UK – representing the leading beverage carton manufacturers Tetra Pak, Elopak and SIG Combibloc – and paper and packaging producer Sonoco Alcore. SA will take advantage of the strength and quality of the virgin wood fibres found in cartons by turning them into industrial-strength coreboard at its paper mill located on the same site. This is then made into 100% recyclable tubes and cores, which are used to wrap paper, man-made fibre yarns, and metal and plastic film around for industrial applications. As the new facility offers numerous benefits to local authorities, kerbside collection of beverage cartons and UK carton recycling rates are expected to increase dramatically.