Paul Brody of Linx Printing Technologies highlights some of the important factors to bear in mind when selecting a coding system for a drinks packaging line.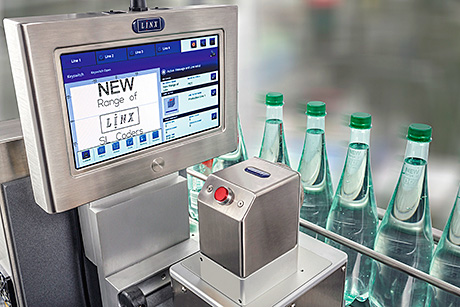 CHOOSING the right coding solution for drinks products is no easy task.
No two applications are exactly the same – code content, the substrate being coded onto, line speed, factory environment and available budget all play a part in determining which machine to choose.
Our own customer feedback has identified that the key drivers behind coder purchases are reducing downtime and improving code quality. However, the first critical decision to make is which technology to opt for. Both main types relevant to bottle coding – laser and continuous inkjet (CIJ) – have their advantages.
Comparing laser and inkjet coding
If you are looking to apply high quality permanent codes without putting any additional substances on the product, then laser coding is the answer. Laser codes can be highly visible or discreet, depending on the material being coded. The permanent nature of the code is also a vital tool in the fight against counterfeiting.
Laser coding has no ink involved in the coding process and therefore no drying time and no risk of smudging. On the other hand, laser coding is highly dependent on the nature of the material to be coded, as some materials are more difficult to mark with laser than others and this affects the speed of printing.
Steered beam laser systems provide perfectly formed characters in a variety of fonts and message formats, and enable the use of high quality graphics and logos over relatively large print areas. They are particularly suitable where high quality codes are required e.g. to blend in with the style of the pre-printed packaging.
Historically, laser coders have carried a relatively high price. However, developments in design have recently given rise to a new generation of lower cost compact scribing laser coders, which offer an affordable alternative to CIJ printers while maximising functionality.
Even with this recent trend, CIJ maintains an important place in the market. CIJ printing is extremely versatile, and its suitability to print on almost any substrate is a very attractive quality. A wide range of inks is available to use with CIJ printers. Choices include inks of different colours, removable inks, fluorescent inks, food-grade inks, colour-change inks, UV readable inks for anti-counterfeiting, and many more, adding yet another dimension to the coding process.
From cardboard to glass, plastics to metal, CIJ can print from one to multiple lines of text and simple graphics at speeds of over 2600 characters per second. Further versatility is given by the compact printhead that can be situated above, beside or beneath a production line – even traversing from side to side across the line if necessary.
Cost of ownership is another factor that warrants consideration. It is vital when planning the purchase of a CIJ printer or laser coder that the true cost of ownership is taken into account and not just the initial cost of purchase. Capital costs associated with the purchase of laser coding equipment have traditionally been higher than for comparable ink jet units, but this can be balanced by the low cost of ownership due to no consumables and relatively low maintenance.
Nevertheless, a decision should not be made on price alone. Line speed, code content and the environment the printer will be operating in are all important factors to consider before making your choice.
Above all else, make sure you have explored all the options in order to select the coder that meets your exact requirements. Talk to companies with a reputation for providing comprehensive coding solutions for increased productivity.