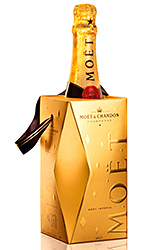 INNOVATION in the field of cartonboard and cartons was recognised at this year's Pro Carton/ECMA (European Carton Makers Association) Award ceremony on 19 September at the ECMA Annual Congress in Dubrovnik.
According to the organisers, nearly one third of the entries were from newcomers to the competition – the highest number of new entrants ever.
Carton of the Year was awarded to the Twinkle Box champagne packaging for Moët & Chandon. The award recognised carton producer Van Genechten Angoulême, which also produced the structural design. Graphic design was attributed to MHCS while cartonboard manufacturers Stora Enso and Mayr-Melnhof Karton were name-checked.
The award for the Most Innovative Design or New Use of Cartonboard went to Deltaclip International for an innovative clip for stationary. One of the judges at the awards commented: "The Judges had never seen this type of construction before and whilst initially it looked small, it worked really well. Made entirely of cartonboard it holds up to 15 sheets of paper securely together with one simple fold … The judges felt that this was an excellent example of creative thinking and design that worked perfectly whilst looking deceptively simple."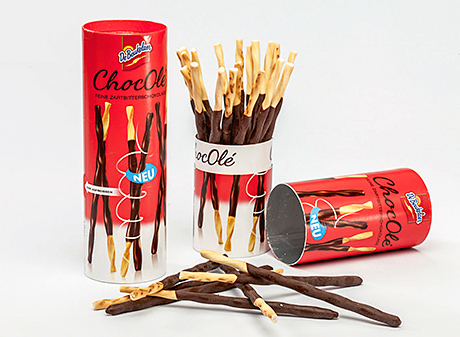 The award for sustainability went to De Beukelaer's ChocOlé chocolate sticks (pictured, above), acknowledging the contributions of carton producer Van Genechten Nicolaus, Cologne; brand owner Griesson De Beukelaer; structural designers from Griesson De Beukelaer and Van Genechten Packaging; graphic design from Syndicate; and cartonboard manufacture by Finnish cartonboard producer Metsä Board.
Metsä Board's Simcote folding boxboard was employed in the ChocOlé packaging and was also used by the winner in the Food category, Danone's Party Packaging Lovely Cookies, printed by Remmert Dekker. Metsä Board's Carta Solida made the winning carton in the Non-Food category, Sloggi Men Match men's briefs from Triumph, where the printer was MWV Graz.
Markku Romano, VP Cartonboard Sales, Metsä Board EMEA, commented: "We're pleased that the sustainability of cartonboard is recognised by both the carton makers as well as brand owners concerned, in both their desire to use a renewable raw material and in its easy recyclability. The winners also used unusual and eye-catching constructions, requiring boards that performed well in production and in use."
Other awards included the President's Special Award which went to the illuminated packaging used for Bombay Sapphire gin, with nods to brand owner Bacardi, cartonboard producers Karl Knauer KG and Rox Asia Consultancy, and cartonboard manufacturer Tullis Russell. The Beverages award was picked up by Biercée Gin, acknowledging brand owner Distillerie de Biercée, and carton producer Smurfit Kappa Van Mierlo.