In today's competitive real ale market it's all about finding ways to stand out on shelf. Beatson Clark looks at how brewers can source a unique bottle without going to the expense of a bespoke design.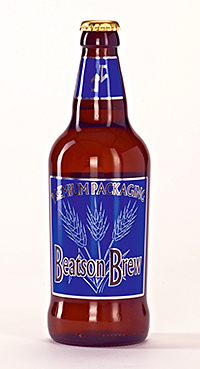 BEER sales might be falling in the UK but sales of cask and bottled beer from small breweries continue to rise.
In 1975 there were just 150 breweries in Britain while today there are well over 1,000.
The ability to bottle ale was discovered accidentally in the 16th century when Dr Alexander Nowell, Dean of St Paul's at the time, left a bottle of beer decanted from a barrel on the river bank during a fishing trip. "When he came upon it again quite by chance a few days later, he found it was still perfectly drinkable," records Thomas Fuller in his History of the Worthies of England.
Glass containers offer peace of mind for blossoming breweries when it comes to reinforcing the reputation for quality that British beer enjoys. As a completely inert material glass will never contaminate the product inside the container, and however acidic it is, the product inside cannot harm or alter the condition of the glass.
With an estimated 3,200 real ale brands and around 2,300 different bottled beers from small brewers on the market, it's no wonder that brewers are thinking more carefully about their branding, their target market and the bottles they choose for their beers. At Beatson Clark we have produced high quality bottles for several major British breweries including the Meantime Brewing Company, Shepherd Neame and BrewDog.
Many small breweries now aspire to market their beers in a bespoke designed beer bottle which will allow them to stand out on shelf. Unfortunately, for some of the smaller brewers bespoke designs are not an option; at Beatson Clark we can generally run a quantity of approximately 500,000 units, depending on bottle size, for a completely original design. However, there are ways in which new brewers can source a unique bottle for their beer without going to the expense of a new bespoke design.
Customising standard bottles
Standard bottles like the ones in our general sale range can be customised by having the brewery's name or logo embossed onto the finish moulds, which is more cost-effective than investing in a fully bespoke design and which allows the glass supplier to produce in smaller volumes. Beatson Clark's minimum order for embossing finish moulds is from approximately 150,000 units when run at the same time as the plain version of the container.
More cost-effective still is choosing a standard beer bottle off the shelf. At Beatson Clark new beer bottles are continually being added to the general sale range, most of which have been lightweighted. Last year Beatson Clark launched the new lightweight 500ml tapered beer bottle which proved popular among UK breweries: it can be manufactured in amber or white flint glass and weighs just 285g – almost half the amount of our original 500ml beer bottle, which weighed in at 403g.
The bottle is available from stock with a standard crown neck finish suitable for beers and ciders, but it is also interchangeable with an MCA finish to make it suitable for soft drinks. This exciting development for Beatson Clark is one which is proving very popular with the brewing industry. As glass is infinitely recyclable and totally inert, it is a healthy and sustainable product that helps to minimise the effect of packaging on the environment. We're making the new design available through the general range, which already includes more than 30 products for the beverage sector as well as a wide selection of pharmaceutical and food products.
Recycling progress
Glass is unique as a packaging material in that it is 100% infinitely recyclable with no loss in strength or quality. At Beatson Clark we use on average 52% cullet (recycled glass) to make our amber glass container, ideal for protecting the product inside from harmful UV rays that can prematurely age and damage a finely crafted beer.
We've had over 400 years to work with this technology and there's no sign of losing momentum, with new and better techniques being developed all the time. Back in the 16th century when Dr Nowell returned to the river bank a few days after his fishing escapade he stumbled across his still-full bottle of ale. According to historian Thomas Fuller "he found no bottle, but a gun, such was the sound at the opening thereof". This was, of course, the essential 'second fermentation' – the first of many discoveries that led to the quality bottle conditioned beers we have today.