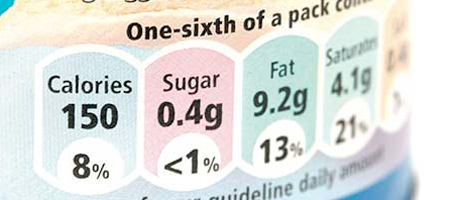 A voluntary traffic-light system of food labelling is to be introduced in the UK, providing an at-a-glance appraisal of a product's salt, sugar and fat content, in addition to the number of calories and other information.
The system is a response to consumer demand, according to Andrew Opie of the British Retail Consortium. Colour-coded labels have faced opposition from many food manufacturers in the past. While there have been other food labelling systems, this appears to be the first standardised one that has the backing of the Department of Health (DoH).
What information will they carry?
Under the new system, the fat, saturates, sugar and salt figures are given as a weight per 100g and as a percentage of an adult's recommended daily intake, as well as being colour-coded and carrying the words low, medium or high. The labels will also carry more detailed information including the number of servings in a pack, the number of calories in a particular portion size, and how much of an adult's recommended daily intake that constitutes (as a percentage).
Being voluntary, the new system will probably only make it onto about 60% of products, it is believed, but those already signed up include supermarkets Tesco, Asda, Sainsbury's, Morrisons', the Co-op, Waitrose and Marks & Spencer. Big brand participants so far include Mars, Premier Foods, Pepsico and McCain's.
Coca-Cola, Cadbury's and Kellog's were the only major brands who appeared to have rejected it, at the time of writing. Coca-Cola and Cadbury's said they preferred the existing Guideline Daily Amounts (GDA) system (pictured, above).
The GDA system has already been in use with some UK supermarkets, including Tesco and Somerfield, but has been criticised by doctors as too complicated. Where the label on a pack of biscuits only provides the GDA for a single biscuit, for example, consumers are led to under-estimate the calorie content of the pack.
A traffic-light system has already been in use with many companies including Sainsbury's, Waitrose and Marks & Spencer. The coexistence of two systems has been blamed for further confusing consumers.
Intuitive appeal
Colour coding has the intuitive appeal of red meaning bad and green meaning good. Historically it has been opposed by many representatives from the food and drink industries, such as the UK Food and Drink Federation. However the DoH has stressed that the intention is not to demonise certain foods – those with lots of reds – but rather to have people consider what they are eating a little more, and to make better choices.
Nonetheless it is expected that the new system will have huge ramifications for packaging design and how certain brands present themselves. Those previously positioned as healthy will be more comprehensively challenged on those claims.
Imperfections in the new system have been pointed out, such as the fact that manufacturers can display any portion size they choose on the new label, leaving the door open for consumers to underestimate the calorie content of what they're eating.
The system is also voluntary rather than mandatory. Food labelling is ultimately governed by EU legislation and the UK doesn't have the power to legislate on this issue.
Opportunities and threats
What will be the effects of the new food labelling system on consumer behaviour and the fortunes of manufacturers?
A survey completed by over 1,200 employees of advisory firm Grant Thornton in June suggested that, while taste, quality and price are currently the key drivers of people's buying habits, the availability of more nutritional information would influence most people to switch towards products that were healthier. Around 80% of respondents expressed clear views that they were at least 'somewhat likely' to switch their buying habits with c.50% being 'very likely' to switch to more healthy alternatives. The exception was snack foods, where almost a quarter of respondents said they were unlikely to switch. The upshot will likely be a need for some manufacturers to review ingredients, packaging and pricing. Manufacturers need to consider how to plan for the impact of the new system, and ensure sufficient funds are available to adapt. Is there a strategic opportunity or risk which the business needs to consider? While GT's employees are unlikely to be representative of the population as a whole, it said the respondents did constitute a well-diversified demographic whose views will be relevant to the food industry.