BILLED as "the first fully digital cutting and creasing machine for folding carton converting", the Euclid from Highcon has in recent months had its first commercial installation at Antilope's Packaging Centre in Lier, Belgium.
At a demo event following the installation, the capabilities of this new digital production converting machine were showcased, printing a small "theatre" on Trucard 2 matt 350 g/m² using a KBA Rapida 105ZF-6+Loffset press. The miniature theatre – designed by Antilope – was delivered to the Highcon Euclid in DXF format from Esko ArtiosCAD software. All in, the finished product was available within minutes.
The Euclid machine offers users savings of time and money by eliminating the die-making process. By streamlining the finishing process, it gives carton converters the ability to meet demands for medium and short-run jobs cost-effectively and with faster speed to market, enabling job-change flexibility and faster reaction times to changing customer requirements.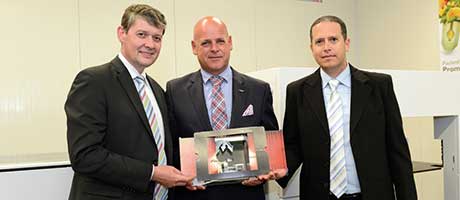 It incorporates Highcon's patent-pending 'DART' (Digital Adhesive Rule Technology) to produce creases, in addition to high-speed laser optics to cut sheets up to 760mm X 1060mm, that have been produced by any printing process.
Plantin-Tetterode Benelux was the sales partner for Highcon, and facilitated the sale with Antilope.
The Euclid has also recently been awarded the "Best Production Printing Finishing Device" in the Annual Awards from the European Digital Press Association (EDP).