Corrugated cathedrals, bicycles and racing cars are just a few of the recent creations that showcase the possibilities of this enduringly popular form of packaging. It's more than just a medium for making boxes, as the Confederation of Paper Industries (CPI) explains
RECENTLY celebrating its 130th anniversary, corrugated has undergone a rebirth as a major advertising medium. There has been a huge investment in printing and design methods by the UK corrugated industry in recent times, providing retailers with imaginative shelf-ready displays. But corrugated is also being used in unexpected ways, some of them ingenious.
Babies can now sleep easy in 'eco cradles' made from corrugated recycled cardboard which are available in the UK; while in Finland, the state sends expectant mothers a starter kit of clothes, sheets and toys in a corrugated box that doubles as a crib.
At the other end of the life cycle, we are seeing a growth in demand for cardboard coffins as more Britons contemplating death seek resting places at one of over 260 eco-friendly burial sites in the UK (source: The Economist March 2013).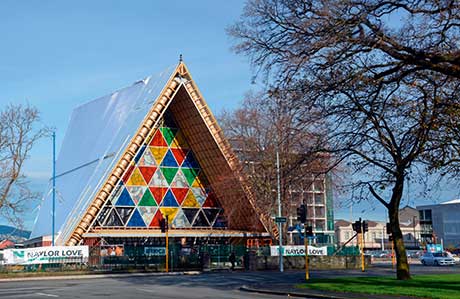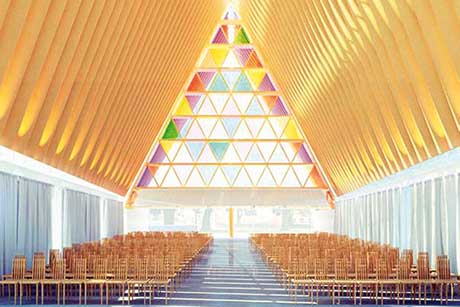 Crisis measures
Corrugated is also helping alleviate crisis situations. In the devastating 2011 earthquake which hit Christchurch, New Zealand, the city's Anglican cathedral was critically damaged and had to be demolished.
It was decided that a transitional cathedral would be built for its congregation in time for Christmas. The cathedral was made of sustainable materials, including huge cardboard tubes. It was designed and created by Japanese architect Shigeru Ban, known for his paper and cardboard structures (source: www.christchurchcathedral.co.nz).
Corrugated has also been given wheels! A cardboard bicycle was built by an Israeli inventor after three years of careful study and prototyping, while a replica Formula One car made from 100% recycled corrugated board, was designed as a promotional vehicle at a UK food and drink exhibition.
Indeed, surveys show that this popular material inspires happy times in childhood, with findings from a poll of parents suggesting that playing with cardboard packaging on Christmas day gives many children more pleasure than the present contained inside (source: The Ribena Plus Play Report 2012).
From box to advertising medium
CPI's Director of Packaging Affairs, Andy Barnetson, commenteed: "Corrugated's flexibility makes it ideal for a wide range of uses, from the cradle to the grave." However, he said, its impact on the retail supply chain makes this the most significant area of use. Recently it has made the transition from a packaging medium for transporting goods to a three-in-one solution comprising product protection, an advertising platform and merchandiser.
CPI represents a multi-billion pound industry, thousands of UK jobs and the best packaging recycling record in the country. The industry is proud to use and promote a sustainable and renewable material, over 80% of which is recycled, saving an area the size of Greater London from landfill every four months.
Protecting around 75% of goods in transit, corrugated has led the way on issues such as lightweight packaging and space efficiency in shops and trucks, resulting in fewer lorries on the road. Its environmental credentials are second to none.