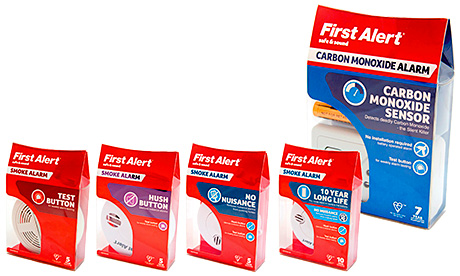 A new way of packaging a smoke alarm was discussed at the Packaging Innovations conference in February, in a presentation on how packaging can transform the manner of purchase for many products.
Sprue Safety Products' Simon McMahon explained how it has transformed a "grudge purchase" into a "must-have".
"Unfortunately smoke alarms have not been perceived as the most exciting purchase, but these products save lives," Simon explained. "We realised that because the range of products in this retail area was confusing and unclear, the buying process was difficult, so consumers ended up shopping by price only – where cheapest always wins – or worse; they walked away without purchase."
Instead, McMahon said the team worked to produce packaging that educates, informs and simplifies choice and purchasing of these life-saving devices.
"First Alert had heritage in the industry as the first ever smoke alarm. These products were simpler in design and features [ than predecessors ]. We created a friendlier, less edgy visual design and created the tag line 'Saves you money. Saves your life' – First Alert's 'reason to buy'.
"One of the major reasons for the shopping experience being so poor was deemed to be the 'back-to-front' communication on the packaging.
"Previous packaging focused
on shouting 'smoke alarm' – the obvious bit – loud and clear, but the features and technologies was baffling.
Don't assume understanding
"It's very easy to assume that everyone completely understands your product, but by speaking directly to consumers, we learned valuable feedback which enabled us to make two major changes to the way smoke alarms were presented.
"The first was to label each product by its main feature to give clear differentiation in the range. The second was to change or translate the terminology. So often a new technology is assigned an impressive-sounding acronym, which rarely has any meaning to the consumer. You then have to work very hard to explain what that technology is on the packs, where space is a premium.
"This had been a problem in smoke alarms. The two main sensor types – ionisation and optical – were not understood by the customer. Time to ditch the terminology.
"Ionisation and optical alarms were sold as being better at reacting to different fire types, but a more meaningful benefit of an optical smoke alarm to the consumer is that it is less sensitive to cooking fumes such as toast. So we renamed optical technology 'toast proof'. This resonates with so many people, therefore we didn't need to add huge amounts of text.
"When a consumer has less time and incentive, and wants to make a decision quickly, feature lists, bullet points and product selector tables often hinder rather than help.
"When we implemented the new range offering into B&Q, we forecasted that we would see a substantial rise to 12,000 alarms sold per week. In fact we are selling up to 22,000 alarms per week."