RESEARCH conducted using a smartphone app from packaging design specialist ThePackHub throws light on consumers' views of Heinz Beanz 1kg Fridge Pack.
ThePackHub CSI (Crowd Sourced Insights) is a smartphone app that is intended to allow companies to gain fast and accurate feedback from consumers on a range of packaging-related issues, including design, appearance and ease of use.
To showcase the capabilities of the CSI service, ThePackHub ran a survey of existing buyers of the Heinz Beanz Fridge Pack, which was launched by Heinz in 2010. The pack is designed to make it easier for consumers to store leftover baked beans, eliminating the inconvenience of decanting them into a separate container.
Paul Jenkins, managing director of ThePackHub, said: "The research … gave us some fascinating insights into how consumers perceive and interact with this great product, illustrating just how powerful a tool it can be".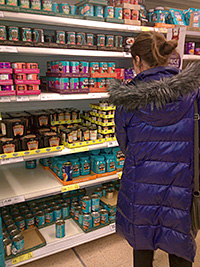 In general, most consumers were very happy with the Fridge Pack – good news for Heinz since 59% of the respondents said it was the first time they had bought it.
It had made a significant impact on the way the survey respondents used and stored baked beans. Some 35% said they previously stored unused baked beans in a container, while a similar percentage previously stored them in the tin. The remaining 30% of consumers said they tended to use the whole tin up.
Other findings from the research included that almost 60% of consumers said they thought the Fridge Pack worked out cheaper pro-rata than cans of Heinz Beanz. As many as 29% of the survey participants were living in single person households – perhaps surprising, given the size of the Fridge Pack
Despite their satisfaction with the Fridge Pack, respondents had suggestions for possible enhancements, such as to create the product in smaller and larger sizes – perhaps 750g and 1,250g – to suit smaller and larger households, respectively. Another idea floated was to add 'compartments' to the Fridge Pack, to extend the storage life of the unused baked beans after opening.
Paul Jenkins commented: "ThePackHub CSI is ideal for when instant, same-day results are required – for example immediately following the launch of a new pack in-store. It's also perfect for 'quick dips' to understand consumers' feelings about packaging concepts, their features and their functionality. It's a fantastic tool that can significantly accelerate the new packaging design process, and also enable companies to react quickly to feedback on new concepts."