Peter Smith of Redpack looks at what underlies the operation of flow wrapping equipment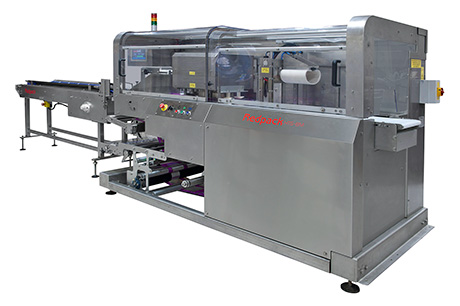 FIRST of all let's consider the film; you may say "well its plastic isn't it?" True, it is plastic, but to achieve the seals it has to have some form of heat sealing capability.
Then there is often the need to be able to see what's in the package so the film has to have very good clarity. It also needs to be strong enough for rough handling but not so strong that you cannot open it and it must be food grade to ensure that harmful toxins cannot migrate into the food.
It gets more complex if you have a product that has to have good seal integrity (that is it must be air tight) or in some instances, for example salad products, where the film needs to allow gases to escape and oxygen to permeate. Most of the flow wrapped food packs that you buy will be some form of polypropylene but some will be a complex amalgam of layers of different film types that overall provide the desired properties.
Anatomy of a flow wrapper
What about the machines that are used to pack the product? All flowrappers have some form of product in-feed conveyor that can either be a belt or chain driven peg pushers. A reel of film is mounted on a shaft and the film stock is fed to a fold box that folds the film into a tube so that two sides go into rotary crimp wheels to form the long seal underneath the pack. The product is transferred into the tube and travels through the machine to end crimp jaws that seal the ends of the tube and cut the pack away from the film stock. The packed product exits the machine on an outfeed conveyor to be either automatically or manually packed into outer cases for onward transportation.
That sounds pretty straightforward, you may think, but some product is fed onto the in-feed by operatives while some is fed automatically using complex feeding mechanisms. The product may be fed through the machine on a tray or, to save packaging material, it may be wrapped without a tray. Wrapping some product, can be very difficult because the wrapping characteristics are different when they are wet, dry, cold or warm and they have to be handled very carefully to avoid damage and bruising. The flow wrapping machine can have film stock mounted above the seam crimp wheels (bottom seal machine) or it can be mounted below them (top seal machine). The film stock can be manually changed or, for continuous production, it can be automatically changed using an "Auto-splice" unit. The end crimp jaws can be rotating or, for high integrity sealing, they can go up and down and travel backwards and forwards with the pack in a "box motion". It's pretty complex really isn't it?