Counterfeiting is a growing threat to patients and the industry alike. Bosch Packaging Technology looks at how this problem is being tackled, and discusses its own tamper-evident labelling solutions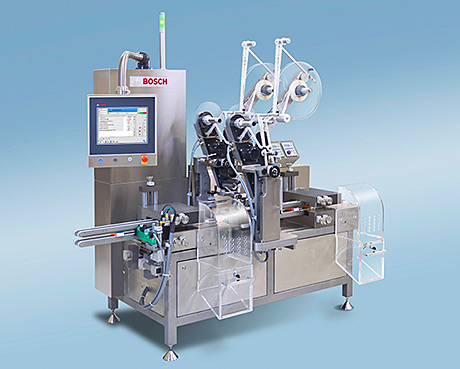 THE European Union's Directive 2011/62/EU requires the implementation of uniquely coded, serialised packs for almost all prescription drugs.
At the same time, the EU demands a second layer of security: the use of tamper-proof closures. The "unique identifier" will be determined in a series of acts, of which the first was published in November 2011 .
A paper has been submitted for public consultation. Stakeholders were asked to comment on the document until the end of April 2012. The adoption of the finalised document is scheduled for 2014. Its aim, amongst others, is the definition of the characteristics and technical specifications of the unique identifier.
Authentication, tamper-evidence and serialisation
A multi-layer approach is obviously the safest option. The technologies available in the market can be divided into three different categories: authentication, tamper-evidence and serialisation. Authentication is provided either by overt, covert or forensic methods. They are used to identify a product or package as an original and to rule out counterfeits. Tamper-evident features clearly indicate whether a package has been previously opened or tampered with. Finally, serialisation is the method used for tracing pharmaceuticals throughout the supply chain. A serial number is attributed to the package and is recorded in a database, where it can be verified at any time.
An automotive flavour of serialisation
A "track and trace" system is a mass serialisation solution that prints a unique identifying code onto each product after it has been packaged. Tracking and tracing systems have been successfully applied in the automobile industry for many years, in particular for security-relevant parts such as brakes and steering components. Bosch Packaging Technology has had a competitive advantage because the company was able to benefit from knowledge transfer between Bosch's automotive field and the packaging division. Meanwhile, Bosch Packaging Technology has been implementing solutions for traceability and process optimisation in the pharmaceutical industry for quite some time. These solutions can be customised to individual needs, allowing Bosch to offer a wide range of technologies from basic mark and verify systems to complex tracking and tracing for complete packaging lines.
The company's CPS (Carton Printing & Verifying System) is a stand-alone solution and intended to be the most flexible serialisation system on the market. Due to its small dimensions, the CPS module can easily be incorporated into any existing or new packaging process, thereby ensuring that print quality and production speed are maintained with minimal impact on overall production output.
Tracking and tracing systems have been applied in the automotive domain…
From pharma to food
With its four flexible feed and outfeed belts, the CPS system can be integrated into all upstream and downstream machines of a line. After the tracking data is printed onto the package, it is automatically verified by the camera system, which reads each printed digit (OCR/OCV). Although CPS has been developed specifically for the fast, high-quality printing of folding cartons in the pharmaceutical industry, the track and trace system is suited for all current and future market requirements in the pharmaceutical, food, and cosmetic industries like the serialisation of blisters, vials, folding cartons and pallets.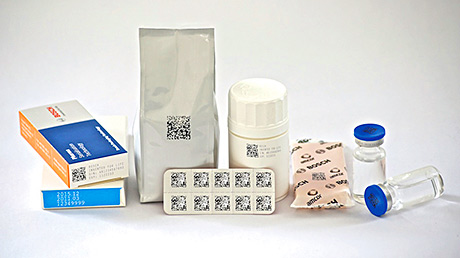 In addition to printing and verifying, the modular and scalable concept allows for the development of a complete system including a central control unit based on functional features such as checkweigher, labeler and tamper evidence solution. In order to meet the market requirements and legal standards (such as Californian e-Pedigree, ITS Turkey and EDPS China) for marking and serialisation of folding cartons in the pharmaceutical industry worldwide, CPS can be updated and equipped with various software systems any time. The software is divided into line processing and line administration. The latter serves as interface between the line and all established higher level systems.
Tamper-evident labeler
Bosch has now introduced an upgraded CPS including a tamper-evident labeler. A maximum of 250 cartons per minute can be printed and verified at a length of approximately 2,000 millimeters. The carton can be marked on each side both from the top and from below. Customary transparent and tamper-evident seals can be provided at both flaps of the folding carton.
Visual inspection economies
The labels are usually verified by use of a camera system. With the new CPS 1900TE, verification of standard clear labels can be accomplished with a sensor. This reduces the complexity of the process and enables easier handling. In order to eliminate the customer's need to purchase an additional machine, this system is available with a labeler or checkweigher, or with a combination of both.
The flexibility of the system also applies to the machines that are already installed. On the CPS module, several labeling and weighing options can be added at a later stage. Any existing type of CPS system can be upgraded with the Tamper Evident module, using a retrofit kit.
Change-over hassle reduction
To keep change-over times short, the system provides tool-free format change. Therefore the system can achieve high overall equipment effectiveness (OEE).
The change positions are reproducible by digital displays at spindle adjustment and scales at linear adjustment. Format positions are saved in a Human Machine Interface (HMI) format list where they can be displayed or printed any time.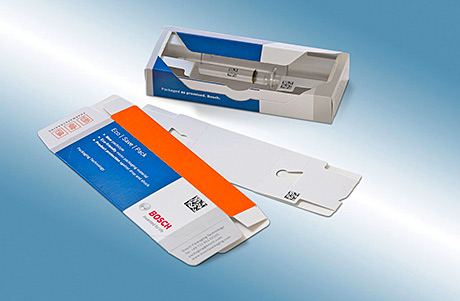 Images – Top, Bosch Packaging Technology's modular Carton Printing System (CPS) fulfills the requirements for a combination of traceability, authentication and serialisation. Above, With the CPS Flatboard, variable data such as serial number and individual product information can be printed onto pre-printed cartons. The free-standing print&verify solution is suited for high-speed printing of up to 300 cartons per minute.