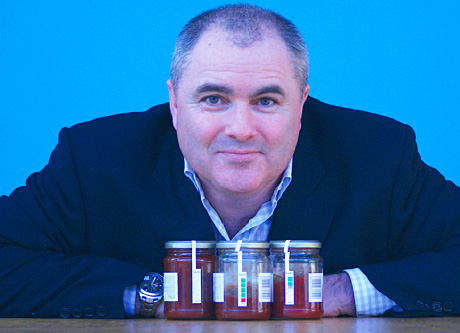 AN ingenious Scots invention that warns when food or other products are about to expire has secured a major investment that could propel the product to market next year.
The UWI Label is the brainchild of Edinburgh entrepreneur Pete Higgins who is convinced his innovative creation has the potential to "revolutionise" safety standards in sectors as diverse as medicines, aerospace, cosmetics, food and drink.
And, it seems, he's not the only one because the product has secured a combined investment of over half a million pounds that will see the label take a major step forward in its development.
Higgins announced the new investment days after returning home from a high profile business tour of the United States run by Climate-KIC, part of the European Institute of Innovation and Technology.
He said: "Our visit to the US provided an incredible platform for us to raise awareness of the product and put us in front of some high profile US investors along with potential customers and development partners, which we hope proves fruitful in the long-term.
"In what has already been an incredible year for us, this latest investment win proves that people recognise the potential of the UWI Label and it is testament to the hard work of our team that we have reached this stage."
Scottish Enterprise's Scottish Investment Bank has invested £250,000 in the innovative label through its Scottish Seed Fund, in addition to £254,000 secured from a US private investor syndicate and £68,000 received from private UK investors.
Investment in the UWI Label from The Scottish Seed Fund is the maximum single deal value possible from the fund and the first time this level of investment has been granted in one go.
The UWI Label's "game changing" potential has been recognised by Scottish Enterprise which has provided financial and practical support to the firm from the outset, with previous innovation funding and support from Scottish Development International – Scottish Enterprise's international arm.
Last year, UWI received its first round of investment of £50,000 from an 'angel investor' that was used in conjunction with £70,000 received from Scottish Enterprise's SMART:SCOTLAND Feasibility Fund to develop sample demonstrators.
The firm also won the coveted 'Barclays Take One Small Step' competition with the £50,000 prize allowing Higgins and his team to accelerate development.
The UWI Label was again recognised in February this year when it won the top prize for innovation at the Scottish Enterprise Life Science Awards – one of the biggest accolades in the scientific sector.
The company recently secured $400,000 (£254,000) from AeroDen – a US private investor syndicate, which includes Scots-born businessman, Douglas Cribbes, who was appointed chair of UWI Technology last year.
In addition to AeroDen and Scottish Enterprise's investment, the UWI Label has raised a further £68,000 through two UK-based private investors with links to AeroDen, bringing the total investment for this round to £572,000.
The money will allow the firm to manufacture working samples by first half of 2013, allowing interested parties to test it for themselves.