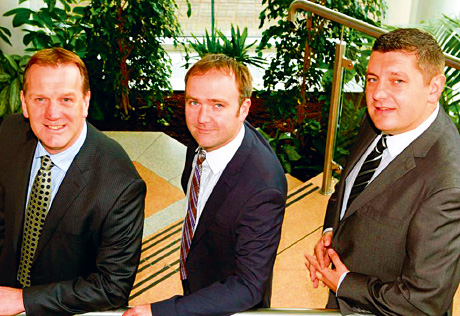 A NEW Scottish company specializing in smart packaging and sensor labels is targeting rapid growth after setting up home at a high tech facility in Lanarkshire.
Insignia Technologies has moved into a dedicated office and laboratory at BioCity Scotland – a site designed specifically for businesses operating in life sciences.
According to the firm, the move was prompted by the need for an easy-to-reach commercial base with onsite business support and to help the firm grow its annual turnover to £40m within five years.
The new company is the result of a merger between Insigniapack Ltd, which has developed a range of intelligent inks for use as sensors in food freshness labels, and Novas Technologies Ltd, a spin-out company led by experts in smart pigment technology originating in the University of Strathclyde.
It is hoped that by combining expertise the new business will be in a position to exploit the design and development of smart packaging and sensor labels.
The initial strategy, it said, is to focus on food production and the processing sector with a view to expanding into other areas.
Waste control and environmental protection lie behind much of the patented smart pigment technology, developed by leading chemist Professor Andrew Mills.
The embedded Waste Watch food indicators change colour over time to show how long the food already opened has been kept in the fridge. The application of Insignia smart inks to indicator labels also includes a CO² indicator pigment.
Dr David McBeth, director of research and knowledge exchange services at the University of Strathclyde, said: "Strathclyde is committed to creating companies that allow our staff and students' ideas to be commercialised for economic and societal impact.
"In this case our spin-out Novas planned to develop truly innovative solutions to reduce the environmental and economic impact associated with wasted food, but the Novas team could see that merging with Insigniapack provided an even stronger business with potential for greater growth."
Chief operating officer Stephen Currie will manage the day-to-day running of the company alongside founder and director Erik Smyth with the support of chairman David Kilshaw OBE who is also vice chair of Scottish Food and Drink.
"BioCity Scotland is already proving to be an excellent base for us and we are delighted with the support we have received," said Stephen Currie, chief operating officer for Insignia Technologies.
"We have also benefitted from the support of Scottish Enterprise both in identifying Insigniapack Ltd as a potential high-growth business and in the funding of a proof-of-concept project with the University of Strathclyde.
"All this has made our new company formation a reality, and we have very ambitious plans for growth."
BioCity Scotland managing director Fraser Black described the company as "a great example" of the breadth of technology being applied to life sciences.