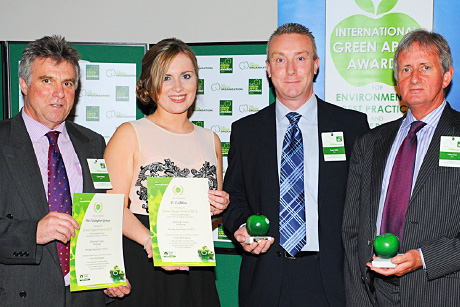 THE Alloa operation of glass manufacturer O-I and drinks firm and The Edrington Group were among several Scottish organisations rewarded for notable environmental achievements.
The Scottish Green Apple Awards, hosted by The Green Organisation with the support of the Royal Environmental Health Institute of Scotland, aim to reward businesses and public sector bodies that succeed in reducing their carbon footprints.
At a special ceremony held at Edinburgh Castle, O-I and the Edrington Group were presented with a gold award for creating the lightest ever embossed glass bottle for a premium Scotch whisky.
The 340g development for The Famous Grouse, owned by the Edrington Group, was successfully produced at Alloa and is described as a "breakthrough" in the industry, which typically sees premium bottles weighing 400g and above.
O-I created the lighter containers to preserve raw materials which means less energy is consumed in its production and transportation.
This has a direct benefit in terms of carbon emissions, one of the major reasons why it was given the gold standard by the awards which was given its Scottish debut this year after several years operating across the UK as a whole.
The reason for creating a dedicated Scottish award was to save businesses the expense of travelling to London during the recession.
O-I says that if the new weight was adopted throughout the whisky industry in Scotland, it would save 58,000 tonnes of glass a year.
Scott Gibb, O-I Scottish sales manager, said: "This project is an excellent example of customer-centric innovation and the award is a great accolade for O-I's development and manufacturing teams.
"They refused to accept the industry norms and we are grateful for a client who was prepared to push the boundaries.
"Winning a Green Apple recognises the steps the company is taking to continuously improve the sustainability of glass packaging. Getting containers to the optimum weight is just one of the ways we can do this, along with increasing the recycled glass content of our bottles and improving furnace design and performance."
All of the finalists will be further assessed for the prospect of representing Scotland in the European Business Awards for the Environment, as the Green Apple Awards is one of the few British campaigns chosen as an RSA-accredited feeder schemes into the Brussels-led competition.
Winners also have the chance to engage with the UK Green Apple Awards and the chance of further recognition and reward at the House of Commons, where the overall winner will be given a free holiday for two in the world's greenest resort – AquaCity in Slovakia.