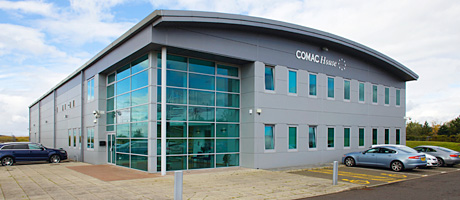 DE Product Labels is looking ahead with optimism on the back of new investment following its move to Eurocentral in Lanarkshire.[/caption]THE wider economic picture may be shrouded in gloom but there are still rainbows breaking through the clouds, writes Graham Mann.
One notable example is Lanarkshire firm DE Product Labels which has experienced steady growth since it was established eight years ago.
Managing director David Edwards started the business after five years working in Derby with engineering company Gerhardt whose clients included Paragon Labels and Worldmark, part of the Field Boxmore Group.
Edwards used the knowledge garnered during his time down south as a platform to set up a labelling firm in a small unit in Netherton Industrial Estate, Wishaw.
Despite the economic slowdown in latter years, what started as a one-man operation with one printing press – a Focus 250 – has flourished to become a leading independent specialist with eight staff and a "competitive edge".
A key milestone in the firm's development occurred last year when it moved to larger and better-connected premises at Eurocentral on the M8 and Edwards also invested in new machinery and staff in a bid to position the firm for future expansion.
"DE Product Labels is one of the very few label converters in Scotland with digital capabilities, enabling us to stand out from the competition," says Edwards.
"We provide a complete range of digital and flexographic printing, including the ultimate finish to labels by foiling and embossing to new and existing sectors such as food and drink, pharmaceutical and health and beauty.
"To enable this growth we invested in new flexographic printing machinery along with state of the art finishing equipment allowing us to increase efficiency and output."
Edwards has placed his in faith in the HP Indigo WS4500. He was won over by technical features that include virtually limitless substrate and spot colour capabilities while providing customers with cost effective low to medium volumes.
This, says the managing director, complements the company's existing flexographic department's ability to provide "quality and consistency" for medium to large volumes.
He added: "By offering this new concept of file to press, the old tradition of platemaking has now been eliminated, removing all plate costs and reducing our carbon footprint helping the customer and the environment. This process allows on site approval at time of production and lets the customer view their exact finished label."
Also in the new armoury is the Digicon Series 2. Edwards describes it as a "unique press that fulfils all the required elements to complete the customers' final specifications on all digital print".