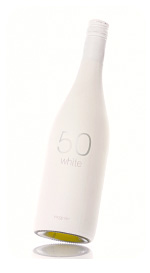 CHEMICAL company Eastman's Embrace HY copolyester for shrink film has been selected by Rivièra Product Decorations for Baarsma Wine Group's contemporary wine range 94Wines.
"The bottle sleeve and its printed design had to remain absolutely distortion-free in 360 degrees despite the complex wine bottle shape," explained Frans Rienks, packaging designer at the Dutch firm Rivièra.
"The high but controllable shrink rate of film made from Embrace HY was essential in ensuring no distortion of the 94Wines brand image. The natural matte white finish of the film is ideal for overprinting, and matches the wine colour to create an exclusive appearance for Baarsma."
The matte white finish eliminates the need for white background printing and achieves "excellent" graphics reproduction while blocking light and UV radiation, said the firm.