The renaissance of one of Poland's most memorable fruit juice brands has been inspired by the development of new glass packaging.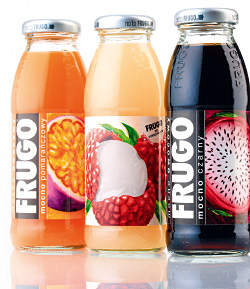 AFTER several years in cold storage, Frugo was resurrected last year and quickly made an impact generating significant sales that made its revival well worthwhile.
Its success in Poland could soon be repeated in the UK with Tesco backing the brand's 250ml glass bottles to attract young, health conscious consumers in this country.
The drink may be less well known here but in the 1990s, when Britain's pop culture was obsessing over products like Tamagotchi, Pokemon, TV shows Beverly Hills 90210 and Friends and Grunge music, Polish youngsters were guzzling gallons of Frugo – an unusual glass bottled drink with an "intensely fruity" taste.
Savvy commercials turned it into a teenage favourite and its marketing success in the Eastern European country was not too dissimilar to that of Tango in the UK.
Now, though, Frugo's original consumers are now in their 30s and the brand has captured the retro appeal with a new launch of 250ml, 300ml and 750ml glass bottles designed and made by O-I in its Jaroslaw plant in Poland.
Brand owner FoodCare was so convinced by the drink's potential to rediscover its former glory that it invested in a new high-throughput filling line especially for the purposes of packaging Frugo.
All sizes are made in clear glass using lightweight NNPB technology for strength at the optimum weight. The bottles weights are 160g for the 250 ml, 190g for 300 ml, and 320g for 750 ml. The brand name is engraved on the bottle and colourful labels, matched to the individual tastes of the drink, ensure that the product stands out on shelf.
Somewhat unusually, each type of Frugo is distinguished through colour rather than its fruit variations with lines stocked in the UK carrying names such as Frugo Black, Frugo White, Frugo Green and Frugo Pink. In addition, all labels bear the logo of the O-I's new 'Glass is Life' campaign.
"When deciding to relaunch the brand, it was obvious to us that we wanted to continue offering Frugo exclusively in glass bottles," explained brand manager Krzysztof Beling.
"Glass is sophisticated and eco-friendly. It provides optimal conditions for our beverages, protects them against chemical substances and is entirely natural. It is 100% recyclable and helps preserve the natural flavour of the product. We also support the O-I Glass is Life campaign, among others by placing its logo on all Frugo labels."
Despite its appeal to the original drinkers, Frugo still enjoys its biggest appeal among teenagers and young adults, who would have been too young to enjoy it first time around. However, Adam Gajewski, president of O-I, is convinced a shared appreciation of taste, aesthetic qualities and concern for the environment unites these different groups, as well as attracting the attention of glass manufacturers elsewhere in the country.
He added: "The success of Frugo is confirmed by the number of inquiries we receive from other manufacturers of such products in the Polish market. The return of Frugo has been our biggest project in the last year with regard to increasing glass packaging sales in Poland."
As well as its expansion into the UK, which has a strong Polish expatriate market, FoodCare has also introduced the product into Bulgaria, Czech Republic, Estonia, Germany, Hungary, Romania, Slovakia and the USA.
It also plans to introduce new flavours, launch a new advertising campaign and invite consumers to submit new tastes suggestions via the Frugo website.
Image: Tesco has shown faith in Frugo and hopes are high its success in Poland could soon be replicated in the UK.