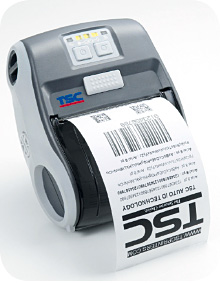 AUTO ID solutions provider TSC Auto ID Technology claims to have set a new standard in portable thermal label printers.
The Alpha-3R is the latest addition to the firm's range of products and is aimed at sectors where there is a need for convenient receipt and document printing on demand.
Described by the company as a "robust, light-weight model", its features include a long-lasting battery and what is said to be "the largest paper capacity ever produced".
Other notable features highlighted by the company include a high-capacity 7.4V/2500 mAh rechargeable Lithium Ion battery with clear LED displays that give the user a clear view of the remaining charge at all times. The printer weighs only 550g and can easily be worn on a belt for extended periods.
A high-speed processor allows printing speeds of up to 102 mm/s at a resolution of 203 dpi, and its maximum printing length is 2286 mm allowing it to process media rolls of up to an outer diameter of 57 mm.