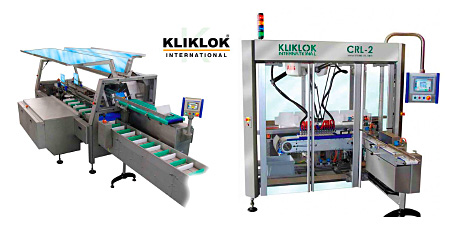 MACHINERY specialist Kliklok is hoping a series of open days held at its Bristol premises last month will lead to new orders from major food producers.
Among the equipment demonstrated was the Collating Robotic Loader and Race Track system, fully integrated with the company's SFR end load cartoner, automatically picking, grouping and packing collations of flow wrapped cereal bars at up to 150 cartons per minute.
For those wanting to see a higher speed end load cartoner, Kliklok was able to demonstrate its CELOX model. The company was keen to highlight the award-winning machine's competitiveness in the demanding world of food packaging. In recent months, the firm has installed several of these machines to pack a variety of products like flow wrapped burgers, muffins, cupcakes, crackers, pizzas and biscuits. One machine demonstration that proved popular was Kliklok's CERTIWRAP wraparound cartoner. It has installed over 70 of these machines throughout the world to sleeve a variety of products using many different carton styles.