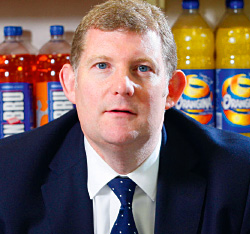 DESPITE difficult market conditions, poor summer weather and intense competition in the soft drinks market, AG Barr increased turnover by 4.9% to £130m for the first six months of the year.
Although the soft drinks firm saw its profits dip from £16.2m in 2011 to £14.9m, chief executive Roger White (pictured) described the group's performance in positive terms.
Looking ahead with some caution, he cited encouraging sales in the first seven weeks of the second half of the year and said the company was excited by growth possibilities linked to the development of a new facility at Milton Keynes.
"We are particularly pleased with our financial performance given the ongoing challenging trading environment," he said.
"We have continued to outperform, delivering further consistent growth in volume and value ahead of a market which has seen volume declines in the period. In addition we have maintained investment in the long-term equity of all of our core brands."
Total revenue increased by 4.9% and volume was ahead by 2.8% compared to last year. Carbonates revenue grew by 5.5% and stills by 1.8% but operating margins were impacted by several factors including raw material costs.
It said core brands Irn-Bru and Rubicon were in "good health" and the firm was well positioned to continue to grow in the future.
White added: "We are excited by the growth possibilities associated with the development of our new site at Milton Keynes which is now under construction.
"Whilst we remain cautious regarding the second half, we have strong plans in place and are pleased to report sales in the first seven weeks of the second half have shown double digit growth."
Meanwhile, Barr confirmed discussions over a possible merger with Britvic plc were ongoing.