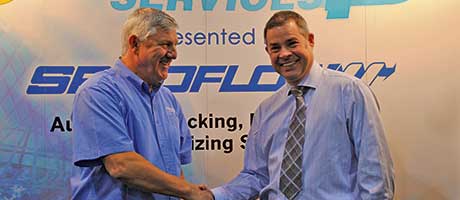 PACEPACKER Services has made three new appointments as part of its strategic growth plan.
Two new UK sales managers have joined the company while current sales manager, Ian Merchant, has been deployed to the US as brand manager.
As part of a joint venture agreement, Merchant will be based within the North Carolina headquarters of Spiroflow Systems Inc, a global provider of processing equipment that acts as Pacepacker's sole US and Latin American agent.
Meanwhile, the Essex firm has strengthened its UK sales team with the appointment of Brian Bell and Chris Francis.
Bell's primary objective will concentrate on a range of sack filling, placing and palletising products while Francis's initial focus will be to expand its presence within the pick and place market, highlighting the existing product portfolio and launching new designs.
Managing director Dennis Allison, said: "We are delighted to have both Brian and Chris on board; their appointments are critical to Pacepacker's continuing success and important to maintaining and growing both UK and overseas relationships."
Image: Ian Merchant, right, with Spiroflow Systems Inc's CEO Michel Podevyn.