A slick labelling operation is essential to businesses that aim to deliver goods with optimum efficiency.
SPEED is clearly of the essence at Kent company Superfast Labels which is an apt name for a label printer that claims to have printed six million labels in just six months. The family-owned business strives to achieve fast turnaround time and often produces the goods within 24 hours, meaning managing director Andrew Miller relies on high performance machinery.
Miller recently added Epson's SurePress L-4033A as part of a strategy to broaden Superfast's services into digital printing and he says the results have been impressive.
"In just six months since its installation, the SurePress L-4033A has printed six million labels for almost 1,000 jobs, with an average run length a shade under 10,000 labels per job. The press is already at 70% utilisation, another milestone reached earlier than we expected."
The addition of the six-colour SurePress has allowed the company to expand into lucrative new markets such as short-run jobs, and offering high quality, cost-effective print services to local small businesses.
As well as being able to print on standard labelling substrates without resorting to pre-treatments or special coatings, the technology can print on textured substrates and as such it has opened-up new commercial opportunities with small-volume artisanal food and drink producers looking for a quality, bespoke result.
"As jobs continue to become more complex to produce and run lengths reduce, the SurePress L-4033A is the perfect solution to cost-effective, short-run label printing," claims Marc Tinkler, senior business development manager, at Epson Europe. "The combination of outstanding print quality, production efficiency and substrate flexibility make it a compelling solution to meet today's demanding label printing requirements."
The decision to invest in new labelling machinery can provide a significant boost to production and that was the case when a supplier to some of the most famous high-end retailers in the UK installed new bottle labelling equipment available from Advanced Dynamics Ltd.
Thriving Divine Deli, which produces a range of artisan food products such as dips, infused balsamics, olive oil and cake decorations, purchased a Pack Leader ELF-50 tabletop labelling unit for its production site in Rochdale to cope with increased demand.
The company, which was started by managing director Andy Shepherd in 2007, required compact labelling equipment that could handle a variety of different-sized jars of food decorations, such as its recently launched own brand sprinkles for cakes, ice cream and cookies.
After weighing up the different labelling machine options in the market, the company chose the ELF-50 tabletop applicator, and Shepherd was suitably impressed.
He said: "Advanced Dynamics supplied us with a product no-one else had. Not only did we need a reliable labeller, but one that did not require hooking up on a full line. The ELF-50 fitted the bill perfectly and has increased our capacity. It is also providing labels that are more professional looking."
For speciality food manufacturers like Divine Deli and Orchard Valley Foods, a supplier of bakery mixes, confections and powder ingredients who also recently purchased the versatile ELF-50, the equipment can be moved around production areas and is adjustable for a large range of round bottles.
Bradford-based Advanced Dynamics believes that its new labelling equipment is revolutionising jar and bottle labelling for fine food and artisan producers.
Joint managing director, Malcolm Little, says: "We believe this market-leading equipment can help fine food companies improve presentation and productivity, save money and reduce waste."
In addition to the ELF-50, the Pack Leader range includes the ELF-20, a tabletop label applicator and other solutions for all manner of labelling.
Aimed at a variety of sectors, Pack Leader equipment is a fully-automated label applicator which can be stand alone or integrated into a line for a variety of container sizes, cartons and bottle shapes, whether glass or plastic, and can label the full range of package configurations, at speeds of up to 40 metres per minute.
This market leading equipment can help fine food companies improve presentation and productivity.
The ability to meet the broad range of labelling requirements found in the bottling and packaging sectors is crucial to the success of firms that are operating in increasingly challenging economic times.
Evolution Bottling and Packaging Solutions (BPS) formed last year as the result of a joint venture between MBF (UK & IRE) and PE Labellers. Complementing their partnership with MBF and PE Labellers, Evolution BPS also work regularly and exclusively with TMG and Robino & Galandrino as well as additional providers of plant in order to secure the correct solution for a plethora of project, offering full line or individual machines.
Director Colin Clelland says the addition of PE Labellers to the product portfolio is a significant enhancement to the Evolution product range, and gives Evolution BPS the ability to supply full turnkey solutions.
Clelland is satisfied Evolution has rapidly integrated PE Labellers into its proposition, adding: "The addition of PE Labelling machines to our portfolio extends our philosophy of providing high quality, innovative machinery with excellent service back up."
He describes PE Labellers as a "world leader" in the field of automatic labelling machines providing high standards of quality, reliability, and durability all for limited operating costs.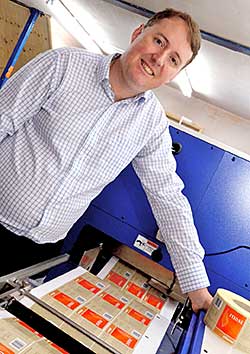 It supplies machines to all sectors including wines and spirits, soft drinks, water, food, chemical and pharmaceutical. Its machines are suitable for a wide range of outputs from 60 bpm to 1300 bpm, and for a variety of labelling systems such as cold glue, hot melt, self-adhesive, roll fed and combined systems.
Its armoury includes the PE Labellers Adhesleeve, which is a labelling machine using white or clear pre-glued roll-fed films, with thickness lower than the films normally used on classic roll-fed labellers.
The technology has led to the elimination of hot melt, the absence of fumes and the elimination of harmful products required to clean the glue residues, thus achieving improved environmental and ecological standards.
Clelland continues: "Being available also with the thermal shrinking system, it brings remarkable savings thanks to the option of creating a sleeve-type packaging with one labelling machine, only by changing the type of film. Thus, Adhesleeve is the most economical and ecological solution for roll-fed labelling as well as the most flexible, immediate and cost-effective solution for thermo-shrinking packaging."
Innovation is also driving the latest technology at Benco Pack, Form-Fill-Seal (FFS) Division of Sacmi Filling. It has recently started up a new fully aseptic packaging line equipped with ISA, the integrated device for cup decoration with shrink sleeve labels, to a main European bottler of water and soft drinks.
This FFS packaging line, developed in cooperation with the sister company Sacmi Labelling and patented worldwide allows packaging and labelling up to 18,000 cups/hr.
A spokesman said: "Thanks to this technology unique in the world it is possible to thermoform, fill, seal and sleever the cups in line starting from packaging materials supplied in rolls.
"The thermo-shrinkage integrated into the FFS line, allows to apply the sleeve labels onto the cups by steam jets of varying duration but in any case less than 0.8 seconds."
The steam consumption of the system is directly proportional to the working speed and much reduced against the traditional thermo-shrinking tunnels as pre-heating is not necessary and steam jets are de-activated whenever the FFS line is in stand-by.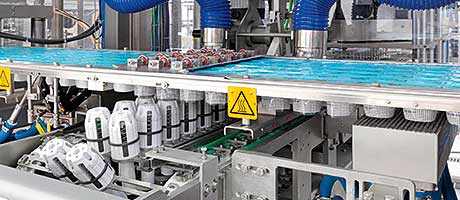 Images: Evolution BPS offers a wide range of labelling solutions. Andrew Miller of Superfast Labels with his Epson SurePress L-4033A that has helped the firm print millions of labels over a six month period. Benco Pack's fully aseptic packaging line for cup decoration with shrink sleeve labels.