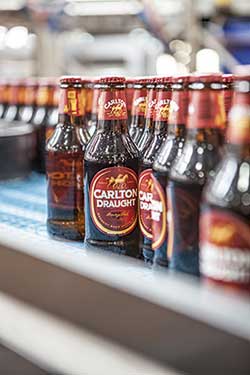 PACKAGING suppliers who rely on a healthy Scottish drinks sector will be heartened by the positive messages coming from some of the biggest operators in the UK market.
Branded cider and beer manufacturer C&C Group plc said operating profit for the full financial year is expected to come in somewhere between 112m to 118m euros.
While poor weather in the UK and Ireland resulted in weak cider numbers for the first quarter, its Tennent's brand performed well in the difficult trading conditions and continues to grow its earnings.
Export also enjoyed a good quarter with the addition of the Hornsby's brand complementing steady organic growth.
The core cider business will see an increase in commercial support and brand activity over the next nine months as the company anticipates a recovery in volume and revenue.
Stephen Glancey, C&C Group CEO, said: "Despite a challenging quarter and tough consumer backdrop, we are confident that our resilient business model and strong brand market combinations will deliver continued earnings growth for the full year and maintain our business momentum."
Elsewhere, SABMiller's UK subsidiary Miller Brands delivered lager volume growth of 8% in the 12 months to the end of March despite a declining UK lager market.
Much of this growth is the result of Miller Brands' premium portfolio which has been a significant driver behind the popularity of world beer in the UK, with Peroni, Pilsner Urquell and Kozel all growing by double digits during the year.
Recent research conducted by Miller Brands has found that world beer is the only sector of the UK beer category experiencing significant growth.
Meanwhile, AG Barr has signed a new extended 15-year franchise agreement with Rockstar Inc. This amendment to its existing agreement will extend the current contract through to 2024, and is expected to further cement the strong relationship between the two companies and highlights future growth potential of the Rockstar brand in the UK.