The success of manufacturers in the food and drink sector depends on fast and efficient production.
HIGH-speed case sealing is a must for snack manufacturers with a global reach so when claims are made about a machine's ability to achieve record speeds it's sure to attract attention.
That's exactly the assertion being made by bosses at Endoline Machinery who say the firm's 744 Fully Automatic Random Case Sealer is delivering 30 cases per minute – an increase of over 50% on its alternative 734 case sealer.
Managing director Alan Yates says: "Our engineers have used multiple servos to track case and head positions for exact synchronisation and to maximise throughput and reliability.
"As a result not only are we meeting the customer's needs, the introduction of the Endoline 744 has boosted our portfolio of servo driven machines – giving manufactures another higher speed option."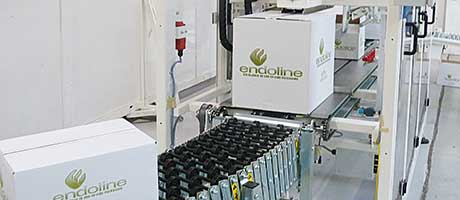 The higher speed is due to the inclusion of high reliability servo drives while running at its optimum level.
The 744 can be fed via multiple lines – a definite advantage to any manufacturer with a high output of various sized case loads.
Yates believes the snacks industry is dealing with increasing levels of output and, he says, the Endoline 744 offers an efficient alternative to purchasing several slower case sealers, which will not only be less cost effective but also take up valuable factory space.
The type 744 follows on from the Endoline 734 case sealer which has been installed within major snack and biscuit manufacturers around the world.
Most notably perhaps, the 734 option has assisted United Biscuits in increasing its production capacity on their McVities Biscuits lines.
Packaging expertise is invaluable to the food sector and few come much bigger than supermarket giant Asda who turned to Amcor Flexibles and QV Foods to develop new ready-to-cook potato products.
QV created two flavours while Amcor provided its Amcor ProtectValve self-venting system for microwave cooking.
The system is integrated into the lidding film so the pack does not have to be pierced. It gives improved cooking results as it allows pressure to be built up inside the pack, steaming the product gently in its own juices and helping vitamin retention.
The reduced cooking time versus conventional boiling significantly reduces the amount of energy used and it is also safer for the consumer as steam will only escape from a designated point on the lid – thus avoiding the risk of scalding.
Amcor Flexibles has used its well-known P-Plus film in conjunction with the ProtectValve bringing enhanced shelf life as well as superior quality.
"Not only have we delivered a perfect solution but also an innovation for UK consumers" says Amcor's David Mayers "This is the first time Amcor's ProtectValve has been applied to lidding material for fresh produce in the UK."
Image: Endoline says its 744 case sealer can deliver 30 cases every minute.