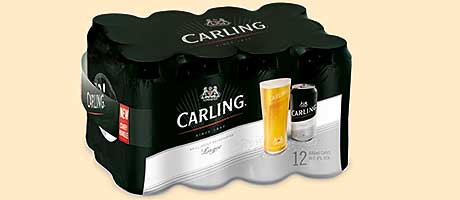 A £6.3m investment in new packaging technology is expected to drive innovation in the beer category.
Molson Coors' has decided to package its Carling brand in film instead of cardboard to improve capability and flexibility.
In what is being hailed by the company as an industry first, selected packs feature a carry handle on larger pack sizes which will help increase the efficiency of stock replenishment for customers and make the product easier to handle for shoppers.
The move to packaging in film will increase the brewery's environmental performance by reducing the weight of secondary packaging by 63% and reducing carbon emissions by 4%.
As well as the carbon and weight benefits, ink coverage has been restricted to less than 5% of the overall packaging weight so the film can be 100% recycled.
This investment is part of a multi-year redevelopment programme in which Molson Coors has increased capital investment into its brewery network by an additional £15m a year over five years.
Off-trade sales director Craig Cowles, says: "This new packaging technology is the latest milestone in our plans to drive innovation to ensure we meet the future needs of our customers and consumers, while being as energy efficient as possible. We are the first major UK brewer to invest in this technology on such a large scale, and it is another step in our five year plan to redevelop our largest brewery and the UK's biggest, based in Burton-upon-Trent."
To compliment the new packaging initiative, design consultancy, Echo, has designed a new creative visualisation of Carling that incorporates the Union Jack and will feature across Carling's outdoor, print, and TV advertising.
Under the "Brilliantly British. Brilliantly Refreshing" campaign, the new look will also be used on limited edition retail packs of 10, 12 and 20 Carling cans.