Record food and drink exports is a bright spot for packaging suppliers during tough economic times.
THE food and drink supply chain can look to the future with optimism after the latest export statistics revealed the sector is booming.
The full-year figures for food and drink exports reveal industry growth has exceeded all expectations – with a target to increase exports to £5.1 billion by 2017 surpassed six years early.
The industry notched-up record exports of £5.4 billion last year, which was underpinned by strong performance from the whisky industry – a huge source of business to the country's packaging suppliers.
Last year whisky exports were worth a record £4.23 billion, up 23%, while fish and shellfish were the highest value food sector export, up 4% to £648.4m.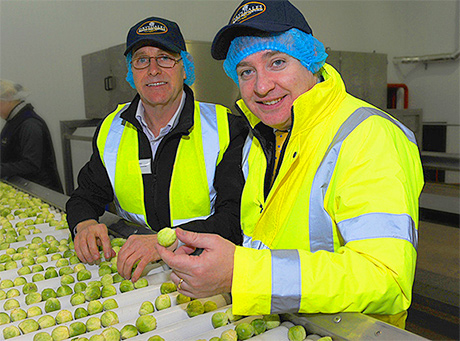 The figures prompted rural affairs secretary Richard Lochhead, who recently opened a new agricultural facility in Berwickshire, to say the sky was the limit for Scotland's food and drink businesses.
R and K Drysdale Ltd is just one example of a Scottish firm making its mark in Europe. It has invested £1.6m in a new production and storage facility which washes, peels and packs sprouts that are supplied to the UK's leading supermarkets as well as businesses in Amsterdam, Gothenburg and inevitably, Brussels.
Lochhead said: "Scotland is rightly hailed as a land of food and drink, which is underpinned by the record exports achieved in 2011.
"This demonstrates that people around the world are appreciating the high quality and delicious products that Scotland's larder has to offer."
Food and drink is a Scottish success story at a time when other industries have struggled and economic conditions have been tough.
Scotland's top food and drink exports markets were France (up 18% to £825m) and USA (30% increase to £726m), while strong growth was achieved in Asia, with 44% increases in both Singapore (£319m) and China (£92m).
The 2011 export statistics also reveal that the US remains the key market for whisky exports, with a 31% increase to £655m, followed by France, up 27% to £535m.
Food exports increased 9% year-on-year, to a record £1.16bn, with fish and shellfish accounting for 56%, while fruit and vegetables was the food sector that achieved the fastest growth, soaring by 62% to £62m.
The figures showed Europe provides the main export markets for food with the top three country's important Scottish produce: France (£289m), Ireland (£104m) and Spain (£87m).
Lochhead added: "With exports increasing by more than a fifth, the whisky industry has seen hugely impressive year-on-year growth, while Scotland's iconic seafood remains at the heart of our food exports offering. It's also heartening to see a substantial 60% boost in fruit and vegetable exports.
"Food and drink is a Scottish success story at a time when other industries have struggled and economic conditions have been tough.
"Therefore I congratulate our hard working producers and organisations who deliver such excellent and premium food and drink.
"Strong food exports to our key European partners have been backed by significant growth in the key US market.
"And new and emerging markets in Asia and the Middle East are also continuing to expand. The sky is the limit for Scottish food and drink and I'm sure we will continue to build on this success in 2012."
Meanwhile, Scottish Development International and Scotland Food and Drink are working with businesses in China in an effort to open up opportunities in the market there and that model could be rolled out in other key markets to try to ensure Scotland maintains its momentum.
James Withers, chief executive of Scotland Food and Drink, said: "Our food and drink industry is Scotland's biggest growth story right now. These new figures mean that the 10 year target industry set itself in 2007 – to grow our total exports by 38% – has been achieved six years early.
"Whisky has been a trailblazer across the globe. But our food sector is now following its lead, with exports up a staggering 62% in just four years, as our reputation as a Land of Food and Drink grows day by day.
"Critically, we have the industry – from the salmon and seafood sectors, to red meat and whisky – all working together under one roof through Scotland Food & Drink. That gives us a stronger platform to work in partnership with government to achieve growth we haven't seen before.
"These figures are a real bright spot in tough economic times. But our export industry has much further still to go."
Anne MacColl, chief executive, Scottish Development International, added: "This is a fantastic result and these figures further reinforce Scotland's growing international reputation as a world-leader in the manufacturing of premium quality food and drink products."