The need to respond to changing consumer demands means technology never stands still.
THE presentation of fresh bakery products and confectionery can be extremely diverse so manufacturers must ensure their machinery is reliable, efficient and above all flexible.
Tisomi believes its two new flow-wrapping machines fit the bill. The firm has continued to expand over the last two years, and its flow wrapping machines are already used to pack a wide variety of food products throughout the British Isles.
But company spokesman Peter Miller, who was closely involved in the design of both machines, is convinced the food sector still has plenty of scope for growth.
He said: "This flow wrapper is the result of nearly two years of design and development activity, and I believe that it brings a combination of functionality, reliability, flexibility, speed and cost that sets it apart from the majority of flow wrappers currently on the market."
The Mini 400 servo flow-wrapping machine is the smallest stainless steel, fully electronic table-top machine currently available in the UK, according to Miller, who says it offers mid speed performance of up to 60 packs per minute and has been specifically designed for use where floor space is limited.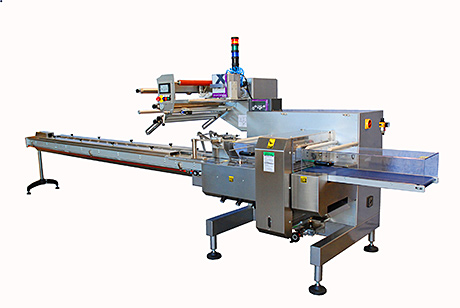 He continued: "It features a colour HMI touchscreen and product memory, and users benefit from fast and easy product changeovers. There is an option for date code printing, and this machine is expected to be of particular appeal to businesses that manufacture products such as sandwiches, rolls, muffins and flapjacks on a daily basis."
For contract packers and high volume manufacturers of bakery products and sandwiches, he recommends the new stainless steel Tuscan 650RJ electronic servo flow wrapper which uses the latest technologies to provide a host of user features and benefits, whilst offering output of up to 150 packs per minute.
Features include a 650mm wide web handling station, a photo cell for print registration, 'no product – no bag', tool-less crimper head height adjustment and an adjustable folding box with fixed product guides, to name but a few.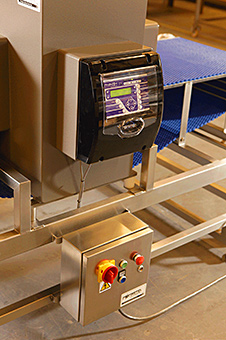 Another constant issue facing food producers is the need to ensure contaminants are detected and removed from the packaging process.
Fortress Technology's inspection equipment has been specially developed to tackle the problem which affects the full range of packaging, processing and manufacturing industries operating in the bakery, meat and poultry, confectionery, frozen and chilled, ready meals and snack food sectors.
The firm's Vector integrated conveyor and metal detector system has been recently enhanced to meet new supermarket retailer standards. It now comprises an audible or visual alarm to indicate when there has been metal rejects in order to help identify potential issues early. The unit features a Stealth control panel specially designed for use in a range of production environments and incorporating a USB port for data capture.
It is fully compliant with British Retail Consortium (BRC) and English European Food Safety Inspection Service (EFSIS) specifications, and has been developed to achieve accurate inspection results by optimising the performance of Phantom metal detectors.
A company spokesman said: "Easy to clean and maintain, the machine features a fully modular design and is robustly constructed to industrial specifications using a stainless steel frame. Its modular design means fewer product parts resulting in greater reliability, while the robust Lexan control panel is designed to withstand the harshest production conditions.
"Providing excellent return on investment, the Stealth has been developed for future redesigns and new elements of the machine can also be retrofitted to older models, ensuring spare parts and upgrades for additional functionality are readily available."