Scots firms rubbed shoulders with thousands of industry players at one of the biggest packaging shows on the calendar.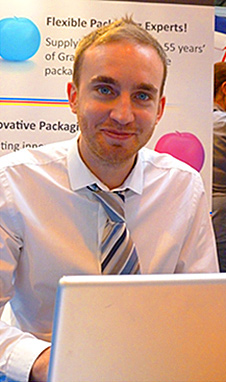 IN the thick of the easyFairs maelstrom was Discovery Flexibles, part of the independent Gravure print group, which has been producing flexible packaging at its Dundee site for over 55 years.
In attendance at the Birmingham show was marketing executive Jamie Stuart, who was eager to promote Discovery's desire to live up to its environmental responsibilities.
He explained to Packaging Scotland that the company has been working hard to develop a range of 'green' products to satisfy changes in consumer demand.
Recent studies have shown that 'green' products do affect buyer behaviour and customers are more aware of the impact their actions have on the environment and buying decisions are made in accordance with such views.
With a history of innovation, Discovery Flexibles decided to look at its market to identify a starting point for the development of a compostable range of products.
As one of the biggest UK suppliers of triplex laminate coffee bags, it looked at the potential demand within the coffee industry for a compostable solution. It identified a demand for such a product and initiated a project to develop a fully compostable bag providing the required barrier properties.
Stuart said: "We decided to put more into our marketing and easyFairs gives us the chance to show what we have to offer. We have a vast amount of experience and a focus on innovation that we feel gives us a bit of an edge. We feel our fully compostable coffee bag ticks all the right boxes in terms of the drive towards greener products. It offers great marketing opportunities giving the product a unique selling point."
He said the process of sourcing materials was a relatively simple task thanks to the a well-established supplier network. Availability of 'green' films and inks has improved in recent years as suppliers respond to increased demand for such products.
With material sourced it was the responsibility of Discovery's technical, print and conversion teams to bring the raw materials together. This was a little more complicated given the number of elements required to produce such a product, never mind throwing into the mix that the finished product had to be fully compostable.
However, through applying its knowledge and experience Discovery Flexibles successfully achieved its goal, producing a fully compostable triplex laminate coffee bag.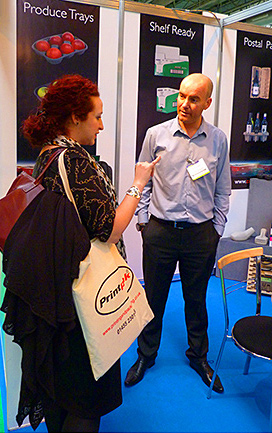 Glasgow-based Cullen Packaging is another firm well aware of the need to make products that are kinder to the environment. James Gallacher was there on the company's behalf and by all accounts it was not a wasted journey.
He said: "We didn't have great expectations but we wanted to showcase our full range of products and what I would say now is that the level of visitor is far higher than I expected. We have had some wonderful enquiries and it's up to us now to transform those enquiries into something tangible."
The independent carton manufacturer, owned by Ronnie MacDonald, the proprietor of Hamilton Academical FC, has been bucking the trend somewhat in recent years. The firm operates from its base in Anniesland but its reach covers the UK and Europe, serving a variety of sectors.
It supplies produce trays to some of the country's leading supermarkets and has a large involvement in supplying disposable medical products for hospitals throughout the country.
Gallacher added: "We have been growing year on year for the past three years and we are budgeted to grow a further 35% this year. We are not feeling the recession as much as some others but don't get me wrong we are cutting our cloth accordingly and protecting ourselves from the down turn."