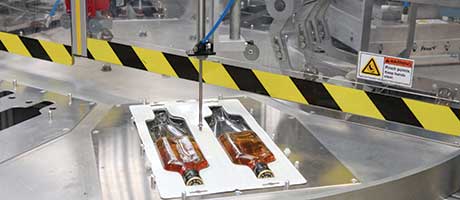 GLASGOW'S Benchmark Packaging Ltd has enhanced its technically driven contract packing service by adding a Sunpaq line to its Hillington headquarters.
According to the firm, Sunpaq is one of the most innovative forms of retail packaging currently available. Originating from the USA, it is a fully-recyclable blister pack alternative, which combines the best of blister, skin and shrink packaging solutions to deliver high point-of-purchase impact and maximum shelf appeal.
Russell Cohen, managing director of Benchmark, said: "It is a fantastic solution that ticks all the boxes in terms of display impact and recyclability, and has the potential for use across a huge number of different sectors. "
Sunpaq's appeal is based on the fact that its unique structural technology means products can be displayed with total visibility, both front and back.
Furthermore, it has the versatility to be hung on pegboards or used as stand alone products, and is available in five different styles – carton insert, frame view, see-through, side-fold and stand-up.
All five styles use the same tough, thin film product-cover, which protects products and enhances their appearance. Shaped cards can also be used with every style, while the potential exists for left-hand / right-hand complementing product placements that dramatically increase shelf density.
In addition to Sunpaq, Benchmark's technically driven contract packing service includes automated case assembly, specialist carton and tube packing, automated front and back bottle labelling, shrink sleeving, gift set management, RF tagging, and glass inspection and assembly.