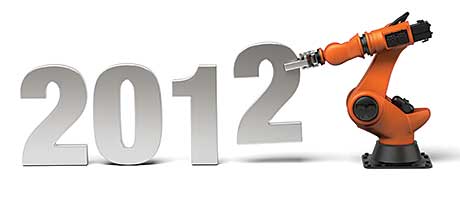 Technology is a crucial consideration for manufacturers looking to reduce costs and improve efficiency. Ian Murray takes a closer look at some of the latest options.
IT is a well documented fact that the food industry's move into robotics and automation has increased over the last few years and Scotland is a clear example of this upsurge with sales of packaging machinery at an all time high.
Murray Packaging, a long-standing Scottish distributor of Endoline Machinery, has witnessed an increase of over 200% in the last 12 months within the food industry and is expecting this growing trend to continue throughout 2012.
This vast upsurge can be seen as a direct result of a number of factors including customer demand for variety, sustainability, and the constant need for manufacturers to deliver products to retailers/wholesalers in shelf-ready packs. As a result manufacturers often find that by automating their production line they are more able to manage increasing variations in products and packaging configurations while accelerating the speed of output.
It is important that manufacturers, in particular SMEs, recognise that automation can be built up and established slowly.
However, manufacturers need reliable packaging equipment, therefore the end of line packaging machinery providers need to stay ahead of the game by supplying machines which offer unique and, often, technically advanced, features. For example retailers looking for shelf ready packaging – where cases are often smaller, complex and sometimes weaker in design due to case perforations, case erectors need the ability to deal with this deficiency, however a dual opposing vacuum case opening system – which has been fitted within an Endoline 221 Case Erector – can overcome this issue by ensuring each case is opened positively from both sides.
While the demands on manufacturers to deliver high volumes of product to the retailer/wholesaler are increasing, so too are the demands on end of line companies to supply machinery which can run at increased speeds. The incorporation of a servo-drive which, while allowing the machine to reach higher speeds – up to 12% in some cases – permits greater flexibility by allowing instant acceleration and stopping of cases through the erecting process.
The servo-drive can also assist in helping the manufacture achieve sustainability and, in turn, an increased return on investment. This is due to the fact that while increasing speeds, the servo-drive can save energy as electricity is only used when needed.
With the uptake of automation within the food industry at an all time high it is important for machinery suppliers to establish and maintain relationships with project integrators who can assist manufacturers in installing a fully automated turnkey system. This was recently the case at a leading UK meat supplier where a mixture of 12 semi and fully automated lines were designed and built specifically to meet the requirements, while Endoline worked with suppliers to manage the installation of additional conveyors and label printers to complete the lines.
Significantly a key aspect to this installation was the assurance that the machines were capable of dealing with raw meat so the lines were designed and constructed using stainless steel for ease of wipe down – highlighting the need for packaging companies to be flexible and open to modifications during the design process.
However while many food manufacturers are investing heavily within automation there is help available to assist manufacturers in automating their production lines during this struggling economy. Last year BARA (the British Automation and Robot Association) launched the Automating Manufacturing Programme which aims to increase robot uptake in the UK amongst automation-shy SMEs and is being boosted by a Government fund injection of £600,000.
Nevertheless while this news of a Government boost may encourage many manufacturers into automation some still may feel that unless they have thousands to spend fully automating their packaging line then they might as well not bother. However it is important that manufacturers, in particular SMEs, recognise that automation can be built up and established slowly.
While it can undoubtedly improve productivity and quality there are also other questions to be asked when automating a line for the first time – such as if a packing machine breaks down can a company cope with the added workload until the machine is fixed? Manufacturers should look at a way of automating which brings flexibility – while lowering the risk level. Rather than replacing workforce with a fully automated line manufacturers can ease their company into the concept – while keeping labour involved working on the new, more productive packaging line.
One example of this would be to invest in a packing station. These stations are ergonomically designed to reduce the effort required to hand pack a wide variety of products by ensuring that products, people and packaging are arranged in the most efficient way possible. Investing in a hand packing station can provide significant short-term savings and future developments can be accommodated as each system can be upgraded by integrating with any erecting, forming or sealing machine.