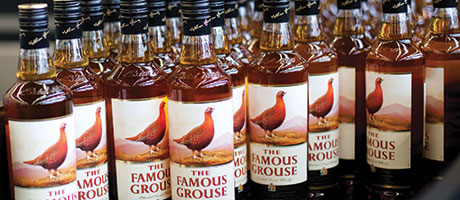 PAPER bag producer Smith Anderson Group Ltd has taken steps to secure the long-term future of the business with the purchase of a 120,000 sq. ft. facility in Kirkcaldy, Fife.
The long-established firm, which produces 50 million paper bags every week, says the investment in Rosslyn Commerce Park, at Mitchelston Industrial Estate, will provide the opportunity to expand both production capacity and its workforce.
The new site offers a state of the art, single storey production facility and sits close just to the A92 dual carriageway, offering improved logistical solutions to support its international trade.
Chief executive, Michael Longstaffe said: "This is a very bold step to take during such challenging times, but we are extremely confident that this was an opportunity not to be missed. An energetic and loyal workforce is our greatest asset and they will function far more efficiently within a single storey production hall with brand new facilities. It has been suggested in the past that we operate within a five-floor rabbit warren – far from ideal for modern lean manufacturing."
Smith Anderson employ just under 200 staff and the move is seen as a significant step towards safeguarding the longer term future of the privately owned company, established over 150 years ago.
Recent significant investment in new machinery has further improved an impressive turnaround from the challenging times of 2006 when the group lost its paper making operation. A very aggressive cost reduction exercise and hard fought raw materials procurement have supported production improvements to create a climate which has made this investment possible, said Longstaffe, who expressed confidence that the business could exceed a turnover of £20m for the first time in its history.
The move is seen as the only credible way to map out a growth strategy for the company whose packaging solutions are all 100% compostable. Having moved half of its operation to Falkland in 2007, Smith Anderson is very well versed in relocation; however the move is expected to take up to a year to complete.
Smith Anderson benefitted from the support of Scottish Enterprise and Fife Council secured a Regional Selective Assistance Grant (RSA) to assist with this project.